EUR/USD  managed to stage a recovery after Easter and this turned into an impressive rally, that mostly reflects the weakness of the greenback.  More PMIs, a speech from Draghi and the ECB's meeting minutes stand out.  Here is an outlook for  the highlights of this week and an updated technical analysis for EUR/USD.
Inflation in the euro-zone is coming out of the abyss, but certainly not going anywhere fast. PMIs were also quite unexciting, showing very slow growth in the euro-zone. In the US, Yellen devastated the dollar once again, seeing the glass half empty and certainly playing down rate hike expectations. The NFP was good enough for a USD correction but certainly not a total reversal of the EUR/USD rally.
[do action="autoupdate" tag="EURUSDUpdate"/]
EUR/USD daily graph  with support and resistance lines on it. Click to enlarge: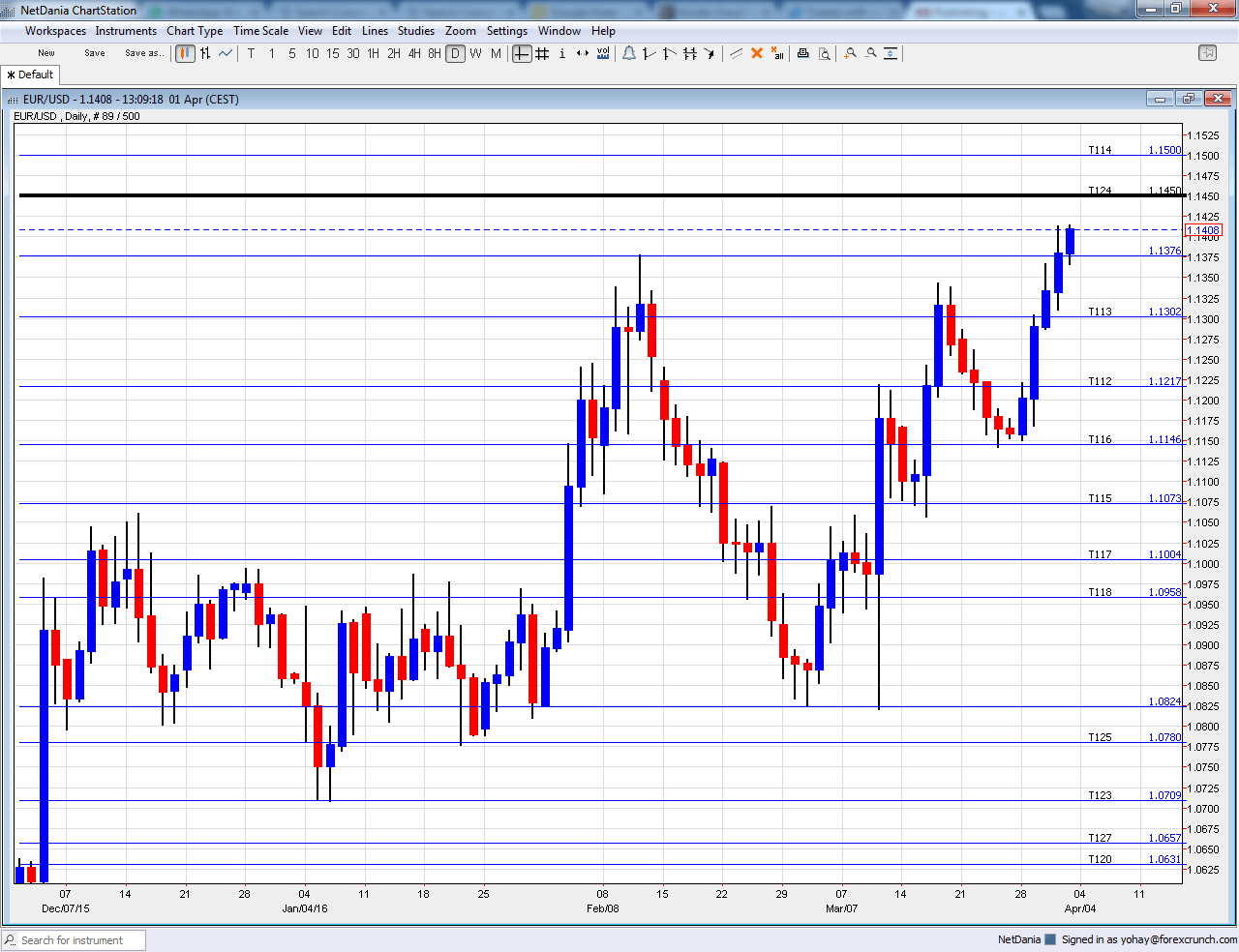 Spanish Unemployment Change: Monday, 7:00. The fourth largest economy in the euro-zone suffers a high level of unemployment and this early update provides a quick update. After seeing a rise of 2.2k  in the number of unemployment in February,  another rise of 21.3K is expected this time.
Sentix Investor Confidence: Monday, 8:30. This wide business survey of 2800 analysts and investors has deteriorated lately, with a fall to 5.5 points in March. An improvement to 6.9 points is now predicted.
Unemployment rate: Monday, 9:00. This was postponed from last Friday, basically at the last moment.  The euro-zone enjoyed  improvements, albeit frustrating ones, in the level of unemployment, with a gradual climb down from the peak of 12.2% to 10.3% in January. No change is expected  for the month of February.
PPI: Monday, 9:00. Producer prices eventually feed into consumer prices and impact the ECB's policy. A fall of 1% was recorded in January and yet another drop is on the  cards for March: -0.5%.
German Factory Orders: Tuesday, 6:00. While this is a volatile figure, it still comes from the largest economy in the continent, and the one that actually manufactures a lot. A small drop of 0.1% was seen in January and for February, a rise of 0.5% is estimated.
Services PMIs: Tuesday: Spain at 7:15, Italy at 7:45, final French figure at 7:50, final German data  at 7:55 and final euro-zone  report at 8:00. According to Markit, Spain's services sector expanded in February, with 54.1 points, above the 50 point threshold separating growth from contraction. A similar figure of 54.2 is expected. Italy, the third largest economy, saw 53.8 points and 54.3 is now predicted. According to the preliminary number for France for March, a score of 51.2 was seen. Germany enjoyed stronger growth at 55.5 points and the whole euro-zone stood on 54 points.
Retail sales: Tuesday, 9:00. The volume of sales  ticked up by 0.4% January, rising for the second consecutive month. While the number is released after the German and French figures, it still moves markets. A small rise of 0.2% is expected.
German Industrial Production: Wednesday, 6:00. Industrial output soared by 3.5% in January, better than expected at the time. A correction with a drop of 1.8% is expected.
Retail PMI: Wednesday, 8:10. Markit's retail PMI cut three months under the 50 point mark and settled at 50.1 points in February, showing minimal growth.
Mario Draghi speaks: Thursday, exact time TBD.  The president of the ECB may steal the show from the minutes. Speaking in Lisbon, he will have an opportunity to reflect on the current situation regarding inflation, growth and future monetary policy.  The stronger exchange rate of the euro is probably an issue for the  ECB and Draghi may also provide a hint about that.
ECB Meeting Minutes: Thursday, 11:30. In the March meeting, the ECB delivered a huge stimulus package: 20 billion euros in additional QE, cuts to interest rates and new  TLTROs. However, by shutting the door on further cuts, the move backfired against the euro. We will now see the level of opposition to the move, how worried the members were of deflation and how they feel about reaching the limits of what monetary policy does. ECB members, including  President Draghi, are  becoming louder in their calls for governments to act.
German Trade Balance: Friday, 6:00. The big  surplus in German trade is one of the things that keeps the euro bid.  However, last month it slid to 18.9 billion, below levels seen in previous months. A surplus of 19.2 billion euros is expected.
French Industrial Production: Friday, 7:45. The second largest economy in the old continent enjoyed a high growth rate of 1.3% in January. A slide of 0.3% is expected. In  addition, the French government publishes its updated budget balance, which showed a deficit of 9.2 billion euros last time.
* All times are GMT
EUR/USD Technical Analysis
Euro/dollar  made a clear breakout above the 1.1220 level (mentioned last week) and traded on high ground. The pair eventually made a big break to the upside, running through 1.1375 and challenging the highs.
Technical lines from top to bottom:
1.1712 was the high point in August 2015 and remains high in the sky. It is followed by the very round level of 1.15.
1.1460 was a key resistance line in 2015 and 1000 above the multi-year lows. 1.1365 separated ranges late in March 2016 and replaces the 1.1375 level.
1.13 worked as support back in October and is the high line at the moment. It is followed by the swing low of 1.1220 in September which is minor resistance now.
1.1140 cushioned the pair in October.  1.1070  served as a clear separator of ranges during February and also beforehand.
1.10 is a round number and  significant resistance. 1.0960, which worked in the past as resistance, provided a cushion for the pair in February. 1.0825 worked as support in early March 2015 and  should also be watched. This is now a triple bottom.
The post-Draghi low 1.0780 replaces 1.08 as support.  1.0710 is the  next support line on the  chart after temporarily capping the pair in April 2015.
I am neutral  on  EUR/USD
The Federal Reserve is not letting the dollar rise and basically matches the ECB. This could continue for another week, but Draghi could try to push the euro down.
In our latest podcast we explain why the doves do NOT cry.
Follow us on Sticher or on iTunes