EUR/USD  underwent a slow yet constant slide from the highs seen in the previous week. What's next? Inflation figures stand out in a busy week  .  Here is an outlook for  the highlights of this week and an updated technical analysis for EUR/USD.
Figures released in Germany were slightly better than expected, with the important IFO business survey beating expectations. However, traders were certainly distracted by the tragic Brussels bombings that also indirectly hurt the euro, on slightly higher chances of a Brexit. The pair also dropped on hawkish comments  released by various Fed officials, leaving an April hike on the cards and contrasting the  very dovish sentiment aired in the decision from the previous week.
[do action="autoupdate" tag="EURUSDUpdate"/]
EUR/USD daily graph  with support and resistance lines on it. Click to enlarge: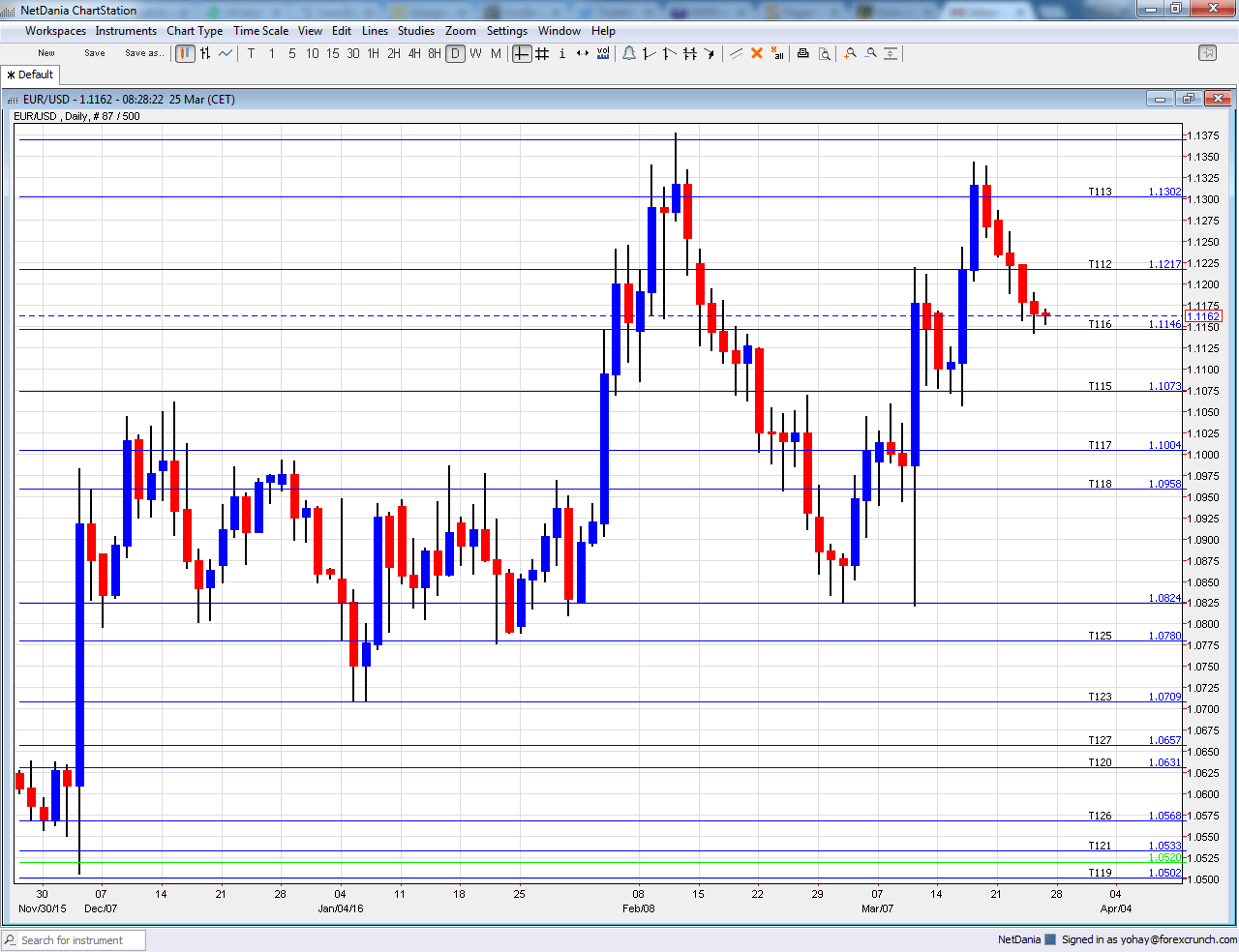 Euro-zone monetary data: Tuesday, 8:00. M3 Money Supply, which reflects money in circulation, has been rising at a faster pace of 5% y/y, partly in thanks to the ECB's loose data. Private Loans have exited  the land of contraction but are rising at a slow pace, 1.4% y/y in January. We will now get the data for February. A repeat of both numbers is on the cards.
German CPI: Wednesday, the various states release the data during the morning, with the final  all-German figure at 12:00. The disappointing German inflation data for February raised expectations for massive ECB action. Prices rose only 0.4% m/m also according to the final data. We will now  receive the preliminary figures for March. An advance of 0.6% is on the cards.
German Retail Sales: Thursday, 6:00. The volume of sales bounced back up in the continent's largest economy, by 0.7% in January. Another  rise is expected now, albeit more modest: +0.3%.
French CPI: Thursday, 6:45. The continent's second largest economy has seen prices edge up 0.2% m/m in February. But now, a bigger rise of 0.5% is expected.  Note that France will also release consumer spending data at the same time. A rise of 0.6% was recorded in January. A rise of 0.1% is predicted.
Spanish CPI:Thursday, 7:00. Year over year,  prices dropped by 0.8% in February, in the euro-zone's fourth  largest economy. Spain enjoys one of the higher growth rates in the continent, but this was built on falling prices. A drop of 0.6% y/y is expected.
German Unemployment Change: Wednesday, 7:55. The number of jobless dropped by 10K in January, continuing the positive trend of the German labor market. A smaller drop in the number of unemployed is likely: 5K.
CPI: Thursday, 9:00. While  some key countries already  publish their data before the all-European event and the big ECB decision is already behind us, this will certainly feed into the next one.  The euro-area returned to deflation with -0.2% in headline inflation and +0.8% according to the revised figure for February. Small improvements are expected: a drop of 0.1% in the headline figure and +0.9% in core inflation.
ECB Meeting Minutes: Thursday, 11:30. The ECB decision in March met all expectations with a huge stimulus package delivered by Draghi but a prepared announcement that the ECB is done for now triggered a positive  turnaround in the fate of the common currency that jumped up. We will now learn how divided the Governing Council was. We already know that Bundesbank  President Jens Weidmann  supported additional measures but rejected the magnitude of measures. We will also see how concerned they were about the specter of deflation.
Manufacturing PMIs: Friday morning: 7:15 for Spain, 7:45 for Italy, final French read at 7:50, final German read at 7:55 and the final euro-zone read at 8:00. Markit's purchasing managers' index for the manufacturing sector showed OK growth for Spain in February with 54.1 points. For March, 53.8 points are expected. Italy, the third largest economy, saw slower growth with 52.2 points and now 52.6 is on the cards. The preliminary number for France showed a slide into contraction territory, under the 50 point threshold at 59.6 points in March.  Germany's number was on the positive side, but not far away with 50.4 points. The all-European figure stood on 51.4  points. The preliminary numbers are expected to be confirmed.
Unemployment rate: Friday, 9:00. The level of unemployment in the euro-zone remains high, but  provides positive surprises by sliding in recent months, reaching 10.3% in January. The same figure is expected now.
* All times are GMT
EUR/USD Technical Analysis
Euro/dollar  made its way down and after a  battle with 1.1220 (mentioned last week), the pair continued south and stabilized at the 1.11 handle.
Technical lines from top to bottom:
We start from higher ground this time: 1.1460 was a key resistance line in 2015 and 1000 above the multi-year lows. 1.1373 is a veteran line from 2003 that continued playing a role also in 2015.
1.13 worked as support back in October and is the high line at the moment. It is followed by the swing low of 1.1220 in September which is minor resistance now.
1.1140 cushioned the pair in October.  1.1070  served as a clear separator of ranges during February and also beforehand.
1.10 is a round number and  significant resistance. 1.0960, which worked in the past as resistance, provided a cushion for the pair in February. 1.0825 worked as support in early March 2015 and  should also be watched. This is now a triple bottom.
The post-Draghi low 1.0780 replaces 1.08 as support.  1.0710 is the  next support line on the  chart after temporarily capping the pair in April 2015.  1.0630 worked as nice support in November 2015 and then switched to resistance.
I am bearish  on  EUR/USD
The pair  failed to maintain the highs as the ECB remains ready to act and the Fed is actually not so dovish. These trends could continue after the Easter holiday.
In our latest podcast we crunch some commodities
Follow us on Sticher or on iTunes