Opening a Forex Demo Account is a great way to practice technical analysis. There's only a minor difference between having a real account and a demo account at this stage of technical analysis, and you can learn a lot. This is the first post in series of posts.
Small Psychological Difference
A Forex Demo Account is extremely useful for parcticing technical analysis and it's results. When checking out forex charts, recognizing trends, seeing resistance and support lines, the process is exactly the same as doing it with a real live account.
When you're out of the market, there's a little difference if you perform the technical analysis and use a live account, or a forex demo account. There is a small psychological effect when you have a real account: it's the fear that you might be missing out on a lucrative deal. This doesn't exist when you practice on a demo account, but the impact is small.
The psychological impact is much stronger when you have a real account with an open position. But when you're out, the fear of missing out is rather small.
So, having a Forex Demo Account is an excellent simulation in the Technical Analysis stage.
Technical Analysis Learning With A Forex Demo Account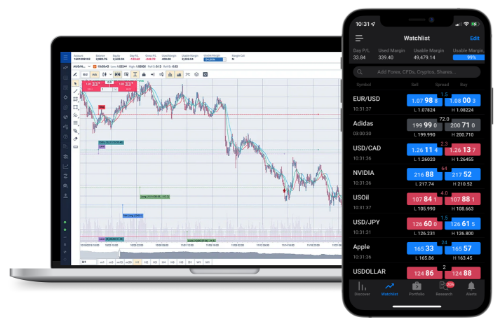 First of all, it's important that your broker supplies the exact same tools for trading with a demo account and with the real account. This refers to the trading tools, the charts, and whatever you feel is necessary. The only difference should be the username!
After the first acquaintance with the charting tools, it's time to begin doing some technical analysis. I don't intend to outline all the methodologies of analysis here, but just supply a few guidelines for diving deeper into your Forex Demo Account, and getting ready for the real world.
Choose one of the easier pairs to trade, such as the AUD/USD or the EUR/GBP (see list of most predictable currency pairs).
Start with trendlines on the daily charts: they are usually easy to spot, and provide a comfortable beginning.
Uptrends and Downtrends: Also from the basics of analysis.
Check out oscillators: first go for the most popular ones, and then see which oscillator fits you best.
Make an analysis: After drawing some lines, seek an opportunity and write it down.
Watch how the market behaves after making the analysis.
Document your results.
Using your Forex Demo Account for technical analysis is excellent. For getting the best out of it, it's important to write down your analysis, document it and save a record of it. Yes, I said the the same thing in three different ways, and let me say that again:
Documentation of your analysis is essential!
If you don't document your moves, it will be very hard for you to learn how to analyze, and your Forex demo account will be just a waste of time.
Let me conclude: Learning how to do a successful analysis is the best thing that a forex demo account can give you. At this stage, the psychological difference between a demo and live account is very small.
When practicing on the forex demo account, it's crucial to document your moves. This is essential for learning.
That's it about practicing technical analysis, in a series of posts about forex demo accounts. Next in the series:
Forex Demo Account for Money Management
Forex Demo Account for In-Trade Psychology