The  New Zealand dollar  was on the back foot for another week, dropping together with its commodity currency peers. Is this the beginning of an avalanche? Indicators related to exports accompany the kiwi this week. Here is an outlook for the events moving the kiwi, and an updated technical analysis for NZD/USD.
New Zealand's trade balance deficit came out below expectations, at 168 million. Despite the positive surprise, for a second month in a row, the New Zealand dollar traded lower, falling to levels last seen in early September, before the "no taper" surprise.
[do action="autoupdate" tag="NZDUSDUpdate"/]
NZD/USD  daily chart with support and resistance lines on it. Click to enlarge: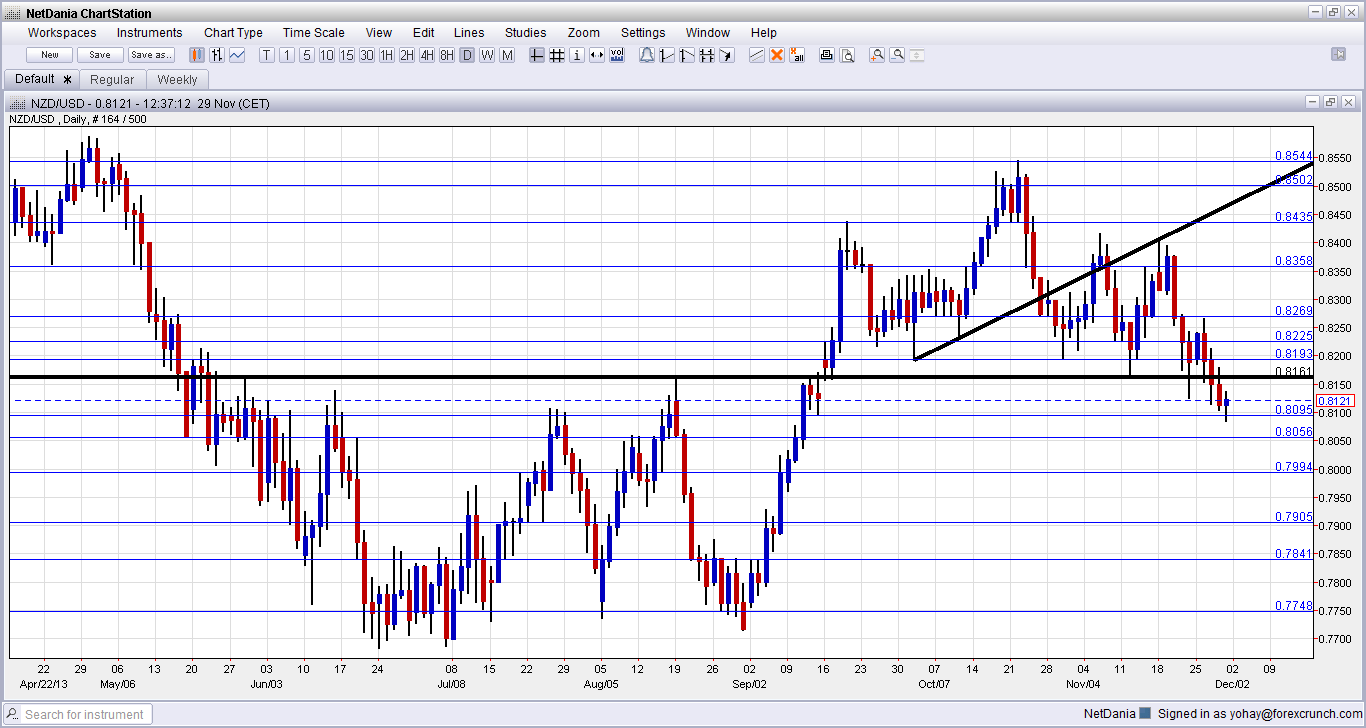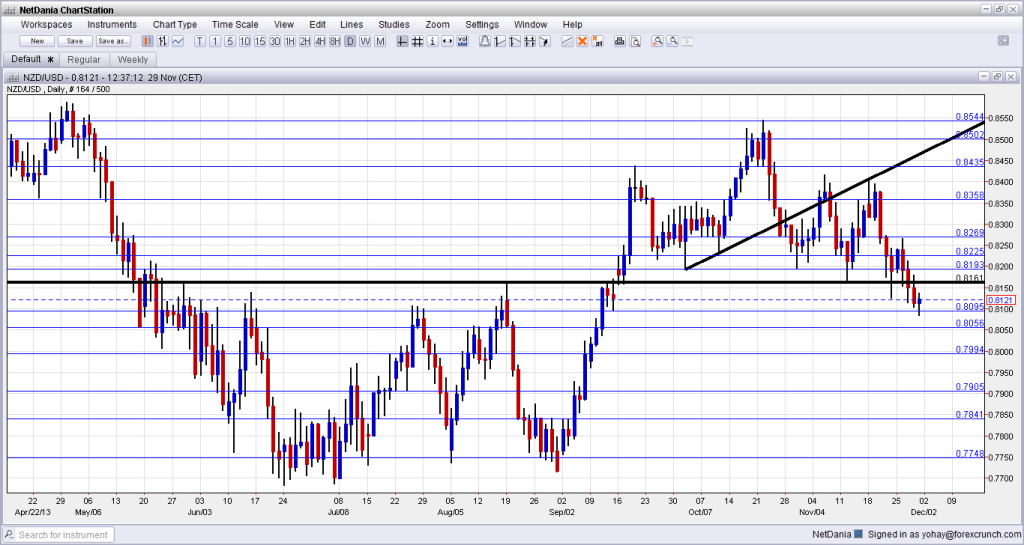 Overseas Trade Index: Sunday, 21:45. Just as the trading week starts, New Zealand releases this index of services and goods traded internationally. In Q1 and Q2, the rise exceeded expectations, especially in Q2 with a rise of 4.9%. A more moderate rise is likely now.
ANZ Commodity Prices: Tuesday, 00:00. As an exporter of commodities, mostly food, New Zealand relies on prices. The rise of 1.3% seen in October will probably be seen also in November.
* All times are GMT.
NZD/USD  Technical  Analysis
NZD/$ started the week with a climb to resistance at 0.8225 (mentioned last week). It then advanced and met another line of resistance at 0.8270. From there the pair began descending, falling below the important support line of 0.8160.
Technical lines, from top to bottom:
0.8435 was the peak in September – a peak that triggered a big downfall. After it was broken again, the line switched to support. It is a clear separator.
0.8360 worked in both directions at the beginning of the year: in March as resistance and in April as support. Also more recently, it worked as yet another clear separating line. Below, 0.8270 provided some support during October, and it also worked as resistance in March.
0.8225 was an important line in previous years, and also worked as support recently. 0.8160 capped the pair in August and worked as support in March. The round number of 0.81 worked as resistance in July.
Lower, 0.8050 was a peak back in June and works as support before the very round number of 0.80.
Below 0.80, we find another round number: 0.79. This level was a pivotal line several times in the past. 0.7840 worked as resistance when the pair traded in lower ground earlier in the year.
I am neutral on NZD/USD
New Zealand continues enjoying positive data, and a rate hike in early 2014 is on the cards. However, the US dollar is enjoying higher hopes for QE tapering in December, and this could be strengthened with a stronger than expected Non-Farm Payrolls report on Friday.
Further reading: