The kiwi had an excellent ending to 2010. Yet again, there are no events are due this week in New Zealand, so the outlook will focus on technicals. Here's an outlook for NZD/USD.
Note that these rises came despite the contraction that the economy underwent in Q3 and despite the Chinese rate hike. The rise of the Australian pulled NZD/USD forward.
NZD/USD daily chart with support and resistance lines on it. Click to enlarge: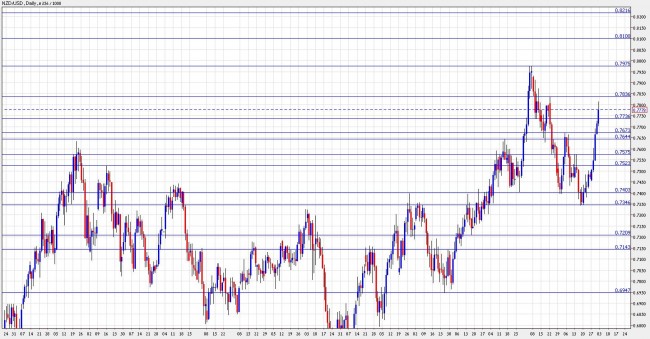 * All times are GMT.
NZD/USD Technical  Analysis
The New Zealand dollar had an extraordinary week, rising more than 300 pips and closing at 0.7778 – a happy new year for NZD/USD.
Note that some of the lines have changed since last week's outlook. Looking up, the immediate line of resistance is 0.7836 – this line capped a recovery attempt of the kiwi in November. Above, 0.7975 was the 2010 high and serves as strong resistance, just under the round number of 0.80.
Higher, 0.81 was an important resistance level back in 2008, and it's followed by the all-time high of 0.8214.
Looking own, 0.7736 provides immediate and rather close support – it did so in October. Belwo, 0.7673 was a peak during November and now turns into support. It's closely followed by 0.7644 which worked as resistance earlier.
Minor support is found at 0.7575, which capped the pair a few weeks ago. 0.7523 is another minor level of support, having a historic role as resistance.
Below, 0.74 is a strong support line, working as such twice in recent months. When this line was finally broken, it was followed closely by 0.7350 – which prevented a deeper fall for three consecutive days in December.
Lower, 0.7210 was a stepping stone for the kiwi on the way up and now provides support.
Even lower, 0.7160 was a resistance line in July and also in August, and now works as support. The last line for now is 0.6950, which was the lowest line in 6 months.
I am neutral on  NZD/USD.
The Chinese slowdown, and the fundamentals in New Zealand, which are weaker than Australia's all weigh on New Zealand, despite the rise in commodities.
Further reading:
Want to see what other traders are doing in real accounts? Check out Currensee. It's free..