After choosing a forex broker, and testing the platform with a demo account, you now feel ready to deposit funds and play the real game. How much should you deposit? Certainly not more than you can afford to lose.
Yet a bigger sum has quite a few advantages that can make a difference between a winning account and a losing one.
Upgraded status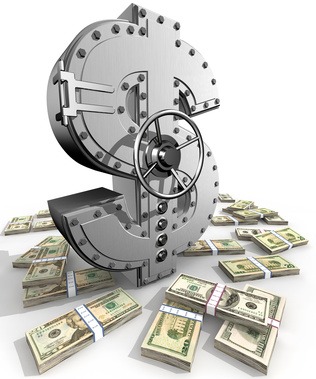 A bigger account size means an upgraded status with the broker. Spreads can be tighter, meaning you earn a bit more and lose a bit less in every trade. This is an obvious advantage but definitely not the most important one.
In some cases, a bigger account means a better customer service with the broker and perhaps other perks. Brokers may offer you enhanced mobile services for example.
More time to learn
With more money in the account, it is easier to implement money management principles. Risking no more than 2% of your account in one trade can be done with more ease: you don't have to make a big compromise on the size of the trade.  In addition, you still enjoy better spreads on the trades, even the smaller ones.
So, you get to make many trades, not risk too much of your account all at once and still enjoy better spreads. But that is still not the most important point.
Taking it seriously
When you deposit a significant sum into a forex account, you are going to take things more seriously. That's how it works with many things in life. You may be have a talent in some field, but there's so much your talent can take you. Working hard, committing to something and being serious makes a difference even for the most talented people in any field.
As aforementioned, don't risk what you can't afford to lose. Yet if deposit a small sum, you'll treat forex trading without care, as a form of entertainment or as buying a lottery card.
Are you here only for entertainment? Or do you want to make money as well?
By assuming that you'll lose everything anyway, you are making a prophecy that is self fulfilling. Instead of testing trades on demo accounts, you'll rush to throw your money into a real account. The result is throwing your money away. Instead of carefully planning a trade and carefully executing your plan, you'll just go with any gut feeling you have at the moment. If you enjoy this, so be it.
But if you want to take things seriously and increase your chance of profiting, serious trading begins not from the first trade, but from the initial deposit.
You don't have to have aspirations of becoming a forex professional. The road is long and consists of a few important steps. But starting from a significant deposit that will make you treat the account very seriously will sure make your trading experience a more thorough one, and eventually a more successful one.
This is the sixth chapter of 9-chapter series about trading forex responsibly. This guide touches the key points of trading forex more responsibly and provides many practical tips that only help avoiding the pitfalls but also provide tools for balanced, successful and sustainable trading.
The whole series is available as an eBook which you can download by joining the newsletter at the bottom of each article on the site.  
All the chapters in the series: