USD/JPY  continued to post gains last week, climbing 160 points. USD/JPY closed the week at 115.15. This week's highlights are the Tankan indices.  Here is an outlook for  the highlights of this week and an updated technical analysis for USD/JPY.  
In the US, key economic indicators continue to impress.  ISM Non-Manufacturing PMI beat expectations  and UoM Consumer Sentiment climbed and easily beat the estimate. In Japan, Current Account exceeded the forecast, while Final GDP came in 0.3%, short of the estimate of 0.6%.
do action="autoupdate" tag="USDJPYUpdate"/]
USD/JPY graph with support and resistance lines on it. Click to enlarge: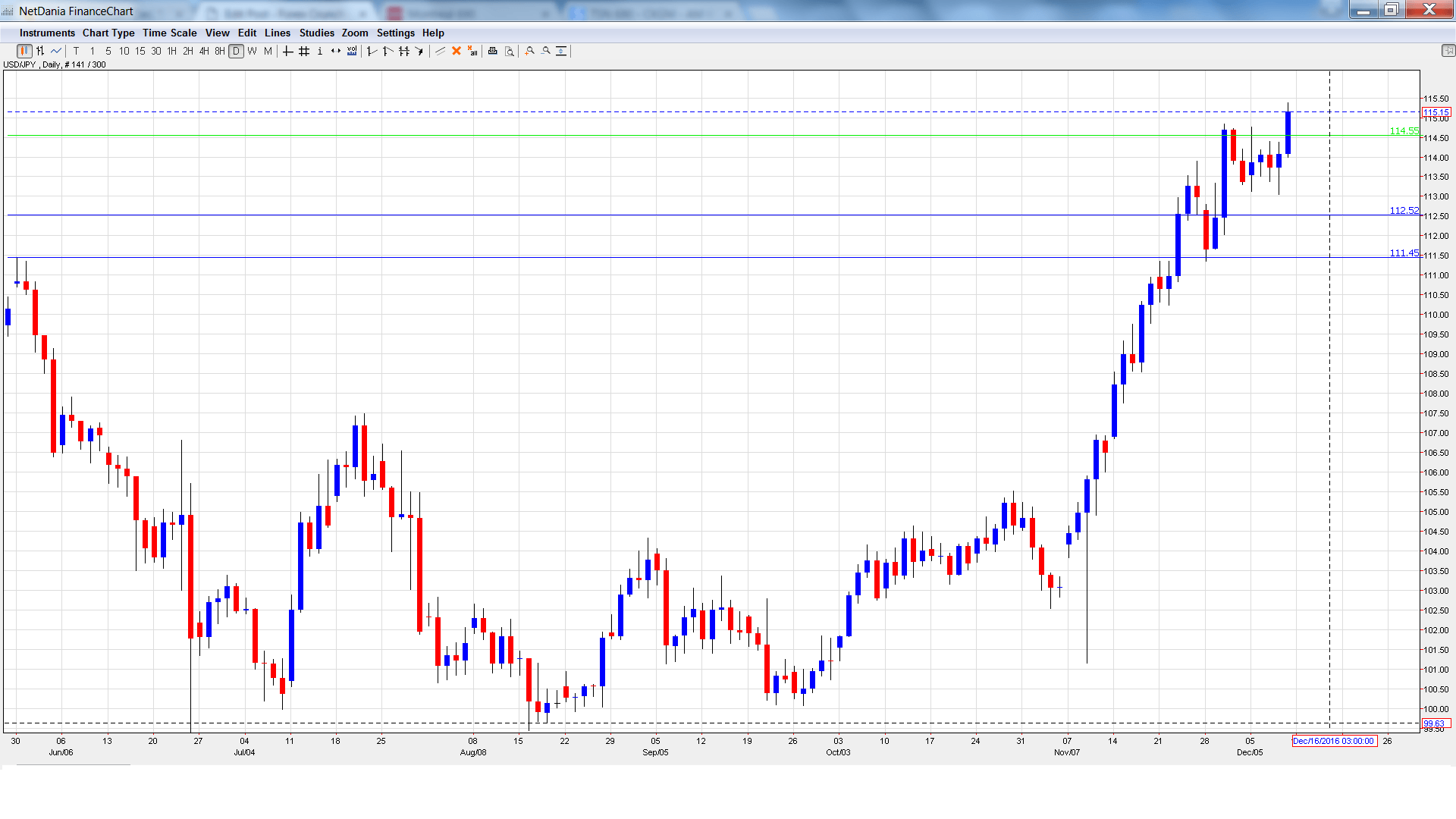 Core Machinery Orders: Sunday, 23:50.  The indicator came in at -3.3% in September, marking a second straight decline. This was much weaker than the estimate of -1.8%. The markets are expecting a turnaround in October, with an estimate of 1.3%.
Tertiary Industry Activity: Monday, 4:30. The indicator declined 0.1% in September, edging above the forecast of -0.2%. The markets are expecting better news in the October report, with an estimate of 0.3%.
Tankan Manufacturing Index: Tuesday, 23:50. The index has been steady, posting three straight readings of 6 points. The estimate for Q3 stands at 10 points.
Tankan Non-Manufacturing Index:  Tuesday, 23:50. The index remains strong but has been moving downwards. The indicator edged lower to 18 points in the second quarter. Little change is expected in the Q3 report.
Revised Industrial Production: Wednesday, 4:30.  This indicator dipped to 0.6% in September, easily beating the estimate of 0.0%. The markets are expecting a weak October report of 0.1%.
Flash Manufacturing PMI:  Thursday, 00:30.  The PMI came in at 51.1 points in November, pointing to stagnation in the manufacturing sector. The estimate for the December report stands at 51.5 points.
* All times are GMT
USD/JPY Technical Analysis
USD/JPY opened the week at 113.52 and dropped to a low of 113.04 late in the week. The pair then sharply reversed directions and climbed to 115.37, as resistance held firm at 115.56  (discussed last week). USD/JPY closed the week at 115.15.
Live chart of USD/JPY:
Technical lines from top to bottom:
We start with resistance at 118.79.
117.52 has held in resistance since February.
116.88 was a cap in February 2015.
115.56 was a cushion in December 2014.
114.55 marked a high point in March.
113.23 is next.
112.53 was a cap in April 2016.
111.45 is the final support line for now.
I remain bullish on USD/JPY
The Fed will likely raise rates this week for the first time since December, so the greenback could get a boost. The Japanese economy continues to struggle, so the yen could be in for a rough ride.
Our latest podcast is titled  From the Crude Cut to Draghi's Drag
Follow us on Sticher or iTunes
Further reading: