After a busy week that saw the pair surge higher, we have a rate decision in Japan, among other events. Here is an outlook on the coming events and an updated technical analysis for USD/JPY, now on higher ground.
The Ministry of Finance announced Japan sold  692.5 billion yen ($8.4 billion) from Feb. 25 to March 29 demonstrating their efforts to lower the currency from a postwar high that threatened a recovery from its worst earthquake ever. Following a surge of the yen to a record 76.25 per dollar, the Group of Seven nations decided to collaborate for the fist time in more than ten years and jointly intervene in foreign-exchange markets and offered to provide any needed cooperation with Japan. Will the joint efforts to lower the yen succeed? In the meantime, the yen weakens, with or without intervention, even if Japan got a positive Tankan figure.
USD/JPY daily chart with support and resistance lines marked. Click to enlarge: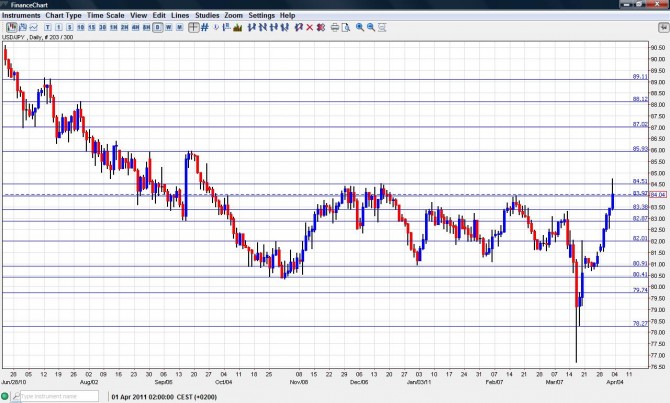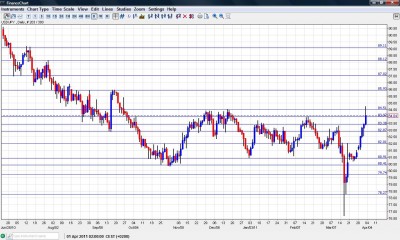 Let's start:
Monetary Base: Sunday, 23:50. Japan's monetary base rose 5.65% in February from a year earlier for the 30th straight month of increase. Current account deposits at the central bank grew 23.3% following 24.5% in January. The rise is thanks to the BOJ's lenient policy easing funding conditions to fight deflation and prop up the economy. A Further growth of 5.8% is expected now.

Leading Indicators: Wednesday, 5:00. The leading composite index, which measures the state of the economy three months ahead, reached 101.9 in January, rising from a reading of 101 in the previous month, but below forecasts for a reading of 102.3. The Cabinet Office upgraded its assessment on Japan's economy for the first time in fifteen months indicating that Japan's economy is showing signs of improvement. A small drop to 101.5% is forecasted now.

Rate Decision: Thursday. The BOJ kept interest rate at a range of zero to 0.1% and maintained their regular government-bond purchases, which are separate from the asset-purchase program, at 1.8 trillion yen. Borrowing costs were already cut near zero last year as officials sought to revive growth and end deflation. Besides the 15 trillion yen of emergency funds deployed in the central bank's biggest one-day operation, the Bank of Japan offered to buy 3 trillion yen of government bonds from lenders in repurchase agreements starting March 16.0. No change in rates is expected.

BOJ Monthly Report: Friday, 5:00. The BOJ  released its  Monthly Report  for March without directly referring to the devastative earthquake.   The report was optimistic claiming Japan is breaking free from the current deceleration process. Exports are improving as well as businesses. Employment still remains week although slightly improved and private consumption is also getting pace. Japan's economy is expected to return to a moderate recovery . However,  the damage of the earthquake has been extensive, therefore production is likely to decline and there is also concern that the sentiment  of firms and households might deteriorate. The coming Monthly Report is likely to be less optimistic.
*All times are GMT
USD/JPY Technical Analysis
Dollar/yen began the week with a small rise, and it settled under the 81.80 – 82 region, before pushing further above. After conquering the 83.40 line (discussed last week), it managed to break above 84, and even momentarily breach 84.50, but it closed at 84.04.
Looking down, there are finally many lines to look down to. 84, which was a peak just before the earthquake, serves as a pivotal line for the beginning of the week. It's followed by 83.40, which returns to its role as support, a role it had a few months ago, and served as strong resistance just before the tragedy.
Below, minor support is found at 82.87, the area where the BOJ intervened in September, and a resistance line in recent weeks. The 81.80 – 82 region is much stronger. It worked as a distinctive line in both directions in recent months.
Even lower, 80.90, which had a role as a pivotal  line is  now only minor support. It's followed by the  November's lows of 80.40, which also worked two weeks ago.
The previous historic low of 79.75 which was reached in 1995 and briefly worked as resistance before the big intervention, provides further support. Further below this historic line,  in previously uncharted territory, 78.27 proved to be an important cushion.
Looking up, immediate and very strong resistance appears at 84.50. This was a very stubborn line of resistance during November and December, and will likely undergo another test soon. It's followed by 85.93, which also capped the pair for a few consecutive days, after the previous BOJ intervention in November.
Higher above, we can already mention lines that were almost forgotten. The 87 line isn't only a round number – it was also support back in July 2010. It's followed by 88.12, which caped the pair back in August and previously worked as support.
Even higher, 89.10 worked in both directions before July 2010. The last line for now is the round number of 90.
I remain bullish on USD/JPY.
As seen in the Non-Farm Payrolls, the US economy continues improving. Japan had its economic problems before the earthquake, and now they are even worse now. With or without the coordinated intervention, the yen is losing ground.
Another note: for those of you trading the yen crosses, it's worth noting that CAD/JPY was the really big winner of the Non-Farm Payrolls, making a massive break higher.
Further reading: