AUD/USD  showed a lot of strength, resisting the greenback and eventually moving higher. Can this continue without a response from the RBA? The rate decision and GDP are the big events in a very busy week that consists of no less than 16 indicators  .  Here is an outlook on the major market-movers and an updated technical analysis for AUD/USD.
One of the reasons for the Aussie's strength was a nice gain in capital expenditure: 1.1% in the second quarter. The central bank eyes this number that overshadowed a big fall in  construction work done. In the US, data has been generally positive, with consumer confidence reaching pre-recession highs. GDP was revised to the upside. The Aussie managed to weather the storm quite nicely.
[do action="autoupdate" tag="AUDUSDUpdate"/]
AUD/USD graph with support and resistance lines on it. Click to enlarge: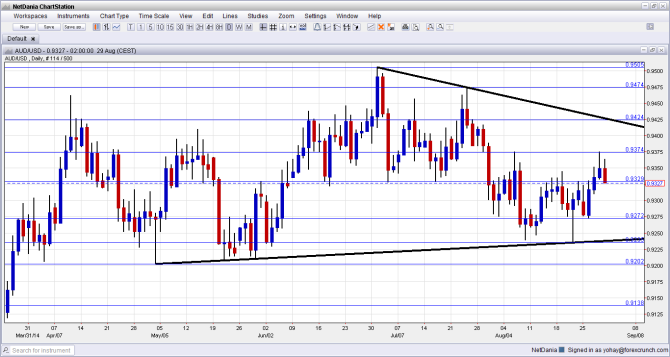 AIG Manufacturing Index: Sunday, 23:30. This PMI-like figure managed to return back to growth  territory in July, climbing to 50.7 points. Another small rise is expected now.
MI Inflation Gauge: Monday, 00:30. As Australia publishes inflation  numbers only once per quarter, this gauge from the Melbourne  Institute helps understand the direction of prices. After a rise of 0.2% in July, a weaker rise is likely for August.
Chinese Manufacturing PMI: Monday, 1:00. The official  purchasing managers' index has been strong in July, standing at 51.7 points. After the  surprising strength, we can see a minimal slide now. Note that official figures are taken with a grain of salt.
Company Operating Profits: Monday, 1:30. Australian companies managed to improve their profits by 3.1% in Q1. This was a positive sign for the economy, even though revisions are common here. A fall in profits is expected now: 1.8%..  
HSBC Final Chinese manufacturing PMI: Monday, 1:45. Contrary to the official figure, HSBC's trusted figure dropped to 50.3 points, much lower than 51.7 points. This number will probably be confirmed now. A drop under 50 will certainly be worrying for Australia's No. 1 trade partner.
Commodity Prices: Monday, 6:30. Year over year, commodity prices have been falling since early 2012. The drop in prices stood on 12.1% in July, and could  be even worse now. The Australian economy leans heavily on commodity exports, especially metals.  
Building Approvals: Tuesday, 1:30. While this indicator tends to be volatile, the correlation between housing and the larger economy makes this figure quite influential on currencies. A big drop of 5% was seen in June. A bounce back is expected for August, with a rise of 1.7%.
Current Account: Tuesday, 1:30. Australia traditionally has current account deficits. In Q1, the deficit was smaller than expected, at $A5.7 billion. A much wider deficit is expected now: 13.8 billion A$.  The publication is somewhat overshadowed by the building approvals figure.  
Rate decision: Tuesday, 4:30. The Reserve Bank of Australia maintains an interest rate of 2.50% for just over a year and it maintains a neutral bias in the past few months. No change is expected in the interest rate, but we might hear some warnings from the RBA on the strong value of the Australian dollar and perhaps expectations that the strengthening greenback will eventually hit the A$ as well.
AIG Services Index: Tuesday, 23:30. AIG continues its series with the services sector, and this indicator is just under 50. At 49.3 points, the figure means very modest contraction. A small rise is predicted now.
Chinese  Non-Manufacturing PMI: Wednesday, 1:00. China's services sector is of growing importance as it tries to transition away from manufacturing. After standing at 54.2 points in July, the authorities are likely to report a  slightly lower figure now, but to keep it above 50.
Q2 GDP: Wednesday, 1:30. The Australian economy grew by 1.1% in Q1, better than expected and at the strongest pace since Q1 2012. A sub 1% growth rate is expected now: only 0.4% growth in Q2. Australia enjoys 23 years without a recession, and this isn't  nowhere in sight, but a significant slowdown would be worrying.
Chinese HSBC Services PMI: Wednesday, 1:45. Also here, the independent number is  weaker than the official number. In July, we had a balanced figure of 50, reflecting flat growth. A small tick up is expected now.
Retail Sales: Thursday, 1:30. This measure of the consumer is released for the month of July, a late release in comparison with other economies. Sales rose by 0.6% in June and have probably slowed down in July. A rise of 0.4% is expected.  
Trade Balance:  Thursday, 1:30. While Australia has  recurring deficits in the current account, the trade balance shifts between surpluses and  deficits. In June, Australia reported a deficit of 1.68 billion A$, and the country is now expected to report a  similar figure: -1.77 billion A$.
AIG Construction Index: Thursday, 23:30. The last figure from the Australian Industry group as shown growth in the past two months, with the indicator reaching 52.6 points in July. The construction sector is expected to have enjoyed continued growth also in August.  
* All times are GMT.
AUD/USD Technical Analysis
AUD/USD  started the week with a slide and it found support at the 0.9279 line (mentioned last week).From there, the Aussie recovered and climbed  nicely before pausing around 0.9370.
Live chart of AUD/USD: [do action="tradingviews" pair="AUDUSD" interval="60″/]
Technical  lines from top to bottom:
The round number of 0.95 was the peak seen in early July and it is a strong line of resistance. 0.9475  was a swing high and serves as minor resistance.
Within the higher ranger, 0.9425 served as resistance in April occasionally capped the pair afterwards. 0.9375 is a double top in August and the current key resistance.
0.9330 was a cushion for the pair during July and is now weakening. 0.9270 supported the pair in August and also worked as resistance in the past.
0.9235 provided support twice during August.  The round 0.92 level also served as support back in May and is strong support.
Narrowing channel
As the thick black lines show, the pair is accompanied  since May by uptrend support, that proved its strength again in August. This uptrend is probably watched by many. We can also see downtrend resistance beginning in July, but this is somewhat weaker.
I  am  bearish  on AUD/USD.
The Australian dollar rose nicely, and it had some reasons to do so. However, these levels are not so comfortable for the RBA. If we do not get an upside surprise from GDP or from Chinese data, we could see them try to play down the Aussie and send it lower in the range. In addition, the positive signs of the economy are likely to support the greenback, this time also against the A$.
More Aussie:  AUD/USD – Make It Or Break It For The Aussie?
Listen to a preview of September's big events in the latest episode of Market Movers: