GDP is the main event in a light week for the loonie. Here's an outlook for the Canadian events, and an updated technical analysis for the weakening Canadian dollar.
USD/CAD daily chart with support and resistance lines marked. Click to enlarge: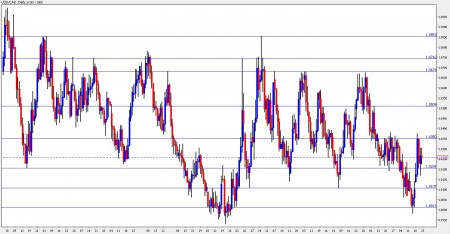 The pause in Canadian rate hikes indeed happened and hurt the loonie. CPI and retail sales didn't help as well, and the Canadian dollar retreated. We now get the overall figure for the economy:
Mark Carney talks: Tuesday at 19:30 and Wednesday at 20:15.  Together with his deputy, Tiff Macklem, Carney will testify in parliament. about the situation of the economy, inflation, employment and will possibly hint about future steps. Any specific talk about currencies, especially after the G20 meetings, will add to volatility.
GDP: Friday, 12:30. Canada releases its GDP once a month, different from most countries. The first release for Q3, for July, was very weak – contraction of 0.1%. The figure for August is already expected to be better – growth of 0.3%. A return to a monthly growth rate of over 0.5% will boost the loonie.
RMPI: Friday, 12:30. The Raw Materials Price Index has a strong impact on Canada that exports commodities. Last month saw a big jump in prices – 2.2%, much higher than expected. A similar, yet slower growth is expected now – 1.9%.
USD/CAD Technical Analysis
USD/CAD climbed gradually in the past week, and bounced off the 1.0350 level (mentioned last week) before closing at 1.0258, a rise of 160 pips in the past week.
The 1.0350 line is a very strong resistance line on the upside. It capped the pair several times in recent months, and also in the past week.  Above, 1.05 held the pair twice during August and is a tough line..
Higher, the stubborn 1.0680 served as resistance in July and in August, for more than one day in each attempt to break higher.  And above 1.0680, 1.0750 was a swing high during May and also the limit  of a long-term range in 2009. Even higher on the upside, 1.0850, which was also a swing high in May.
Looking down, the 2009 low at 1.02 is still relevant, although it has a minor role at the moment. Below, the bottom of August, 1.01 is the next support line.
USD/CAD parity is a very strong line of resistance below. USD/CAD couldn't hold on to it. The year-to-date low of 0.9930 is the next support line.
I remain bullish on USD/CAD.
Without rising rates and oil prices, the loonie is weak against a recovering US dollar. This trend is likely to continue this week.
Further reading:
Want to see what other traders are doing in real accounts? Check out Currensee. It's free..