EUR/USD rallied late in the week, as the pair recorded its best weekly performance since November 2020, with gains of 1.22%. There are four releases in the upcoming week. Here is an outlook at the highlights and an updated technical analysis for EUR/USD.
German retail sales of March sparkled with a gain of 7.7%, crushing the estimate of 2.9%. Factory Orders rose 3.0% and Industrial Production climbed 2.5%.
Manufacturing continues to show strong growth in the eurozone. German Manufacturing PMI shined with a reading of 66.2 and the eurozone at 62.9 points. Services PMIs are hovering around the 50-level, which separate contraction from expansion.
In the eurozone, retail sales posted a respectable gain of 2.7%, above the estimate of 1.5%.
In the US, manufacturing activity grew at a slower pace in April, as the ISM Manufacturing PMI dropped to 60.7, down from 64.7. It was a similar story for business activity, as the ISM Services PMI slowed to 62.7, down from 63.7. Both PMIs missed their estimates.
The market was looking for a blowout report from nonfarm payrolls for April, with an estimate of 990 thousand. Some analysts had even predicted a print of two million, but in the end, the economy created just 266 thousand jobs. Unemployment rose to 6.1%, up from 5.8% and above the estimate of 6.0%. There was a silver lining, as wage growth climbed 0.7%, rebounding from -0.1% and above the forecast of 0.0%.
EUR/USD daily chart with support and resistance lines on it. Click to enlarge: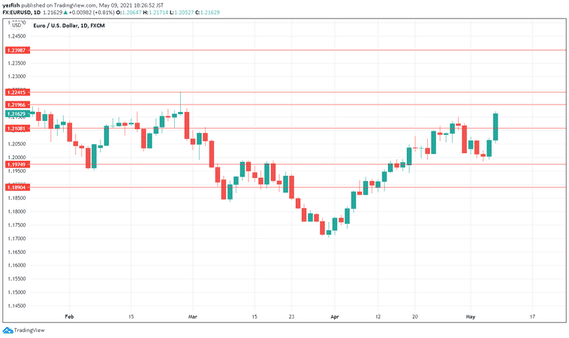 Sentix Investor Confidence: Monday, 8:30. Investor optimism rose to 13.1 in April, its highest level since August 2018. The upswing is expected to continue in May, with a forecast of 14.9 points.
German ZEW Economic Sentiment: Tuesday, 9:00. The indicator slowed to 70.7 in April, down sharply from 76.6 beforehand. The May estimate stands at 72.0 points.
German CPI: Wednesday, 6:00. The initial estimate for the April report came in at 0.7%, and the final reading is expected to confirm the initial release.
ECB Monetary Policy Meeting Accounts: Friday, 11:30. The ECB minutes will provide details of the April policy meeting. The central bank remains in dovish mode, and investors will be looking for any clues as to future monetary policy.
Technical lines from top to bottom:
1.2398 is a monthly resistance line.
1.2241 is next.
1.2108 is the first support level.
1.1975 has held in support since mid-April.
1.1890 (mentioned last week) is the final support line for now.
I am neutral on EUR/USD
The euro has been red-hot since the beginning of April, but profit-taking could curb the current rally. The US nonfarm payrolls disappointed, but the dollar could bounce back if US numbers are positive.
Further reading:
Safe trading!
Get the 5 most predictable currency pairs