EUR/USD recorded its first losing week since late September, losing close to 1.0%. The upcoming week features eight events. Here is an outlook at the highlights and an updated technical analysis for EUR/USD.
Eurozone manufacturing PMIs continue to point to contraction. Eurozone manufacturing PMI dipped to 45.7, shy of the estimate of 47.1 points. The German indicator was even worse, coming in at 41.9 points. The German and eurozone services PMIs were stronger, pointing to minimal expansion, with readings slightly above the 50-level. German GfK consumer confidence slipped to 9.6 in October, down from 9.9 a month earlier. As well, the ECB held rates at a flat 0.00%, in Mario Draghi's final meeting as ECB President. He is being succeeded by Christine Lagarde, former head of the IMF.
In the U.S, manufacturing data continues to sputter. Core durable goods orders fell by 0.3%, the second decline in three months. The headline reading declined by 1.1%, its first decline in four months. The manufacturing PMI improved to 51.5, above the estimate of 50.7. Still, this points to minimal expansion.
EUR/USD daily chart with support and resistance lines on it. Click to enlarge: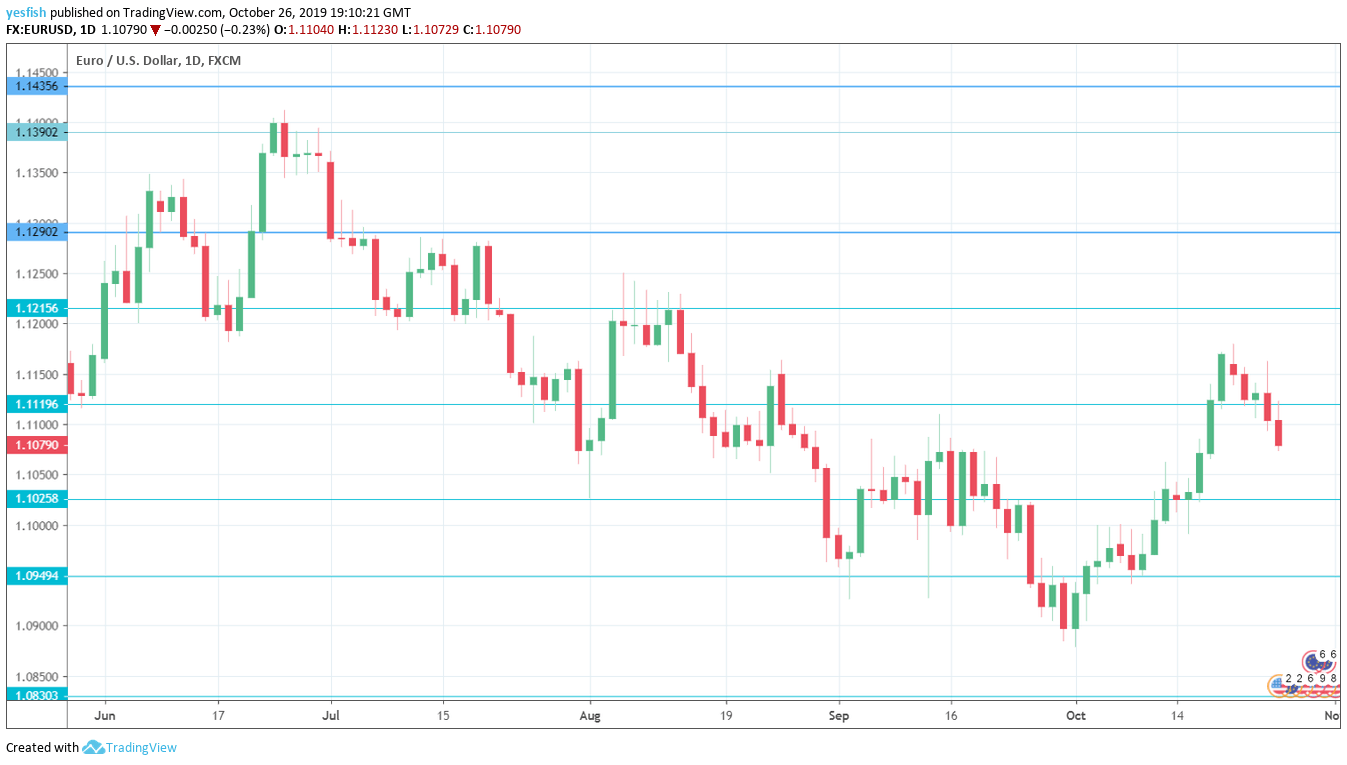 Monetary Data: Monday, 9:00. M3 Money Supply improved to an annual growth rate of 5.7% in August, up from 5.2% a month earlier. The August estimate stands at 5.7%. Private Loans ticked higher to 3.4% in July on an annualized basis. Another gain of 3.4% is expected in August.
French Flash GDP: Wednesday, 6:30. GDP in the eurozone's second-largest economy dipped to 0.2%, its lowest in a year. Another estimate of 0.2% is projected for the third quarter.
German Preliminary CPI: Wednesday, All Day. German inflation remains subdued and has not posted gains in three months. Consumer inflation came in at 0.0% in September and no change is forecast for the October release.
French Consumer Spending: Friday, 6:45. French consumer spending has been weak, with only one gain in the past three months. The September estimate stands at a flat 0.0%.
German Retail Sales: Thursday, 7:00. This key consumer spending indicator rebounded in August with a gain of 0.5%, matching the estimate. The forecast for September stands at 0.3%.
French Preliminary CPI: Thursday, 7:45. French consumer inflation declined by 0.3% in September, its lowest level since January. Investors are expecting a gain of 0.1% in October.
Spanish Flash GDP: Thursday, 8:00. Spain's economy slowed in Q2, with a gain of 0.5%. This was the lowest gain since 2014. The downward trend is expected to continue, with an estimate of 0.4% for Q3.
Eurozone Inflation: Friday, 6:45. Eurozone CPI is expected to show a gain of 0.7% for the initial reading in October. This would be a slight drop from the final September reading of 0.8%.
EUR/USD Technical analysis
Technical lines from top to bottom:
We begin with resistance at 1.1435 was a low point at the beginning of February.
1.1390 was a stepping stone on the way up in late January and capped EUR/USD earlier. 1.1345 is next.
1.1290 has held in resistance since the first week of July. 1.1215 is next.
1.1119 (mentioned last week) has switched to a resistance role following losses by EUR/USD last week.
1.1025 is the first support level. 1.0950 is next.
1.0829 has held in support since April 2017.
1.0690 is the final support level for now.
I remain bearish on EUR/USD
The euro had a good month of October, climbing 1.6%. Still much of these gains can be attributed to dollar weakness rather than an attractive euro. The eurozone economy remains weak, and Germany has also caught the eurozone contagion with a slump in exports and deep contraction in manufacturing. The euro lost ground last week, and the downward trend could continue.
Follow us on Sticher or iTunes
Further reading:
Safe trading!
Get the 5 most predictable currency pairs