EUR/USD is trying to break out of the tight high range, and move even higher, as Egypt faces a critical day. Will we see EUR/USD break higher? Or will this attempt fail again?  Here's a quick update on technicals, fundamentals and community trends.
EUR/USD Technicals
Asian session:  Traded between 1.37 to 1.3760 and failed to break higher.
Current range – 1.37 to 1.3760.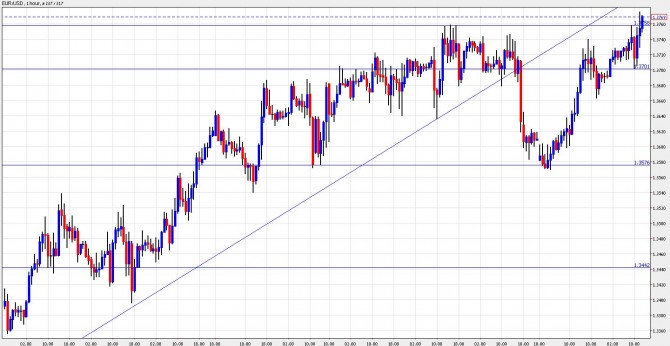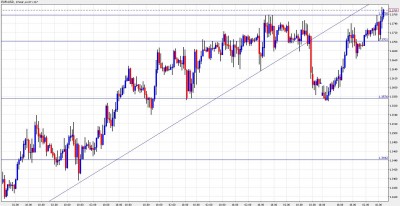 Further levels in both directions: Below    1.37, 1.3576, 1.3440, 1.3334, 1.3267, 1.3180, 1.3080, 1.2970, 1.2920,  1.28, 1.2722, 1.2587.
Above: 1.3760,  1.3830,  1.3950, 1.4030 and 1.4220.
1.37-1.3760 critical range
1.3440 is the key  downside  level – it has stopped the Euro so many times in the past.
Euro/Dollar manages to hold above 1.37- click on the graph to enlarge.
EUR/USD Fundamentals –
8:55 European German Unemployment Change. Exp. 11K, Actual -13K.
9:00 European Final Manufacturing PMI. Exp. 56.9. Actual 57.3.
10:00 European Unemployment Rate. Exp. 10.1%.Actual 10.0%.
15:00 ISM Manufacturing PMI. Exp. 57.8 points. Important hint for the Non-Farm Payrolls.
15:00 US Construction Spending. Exp. +0.1%.
11:15 ECB president Jean-Claude Trichet talks.
* All times are GMT.
For more events later in the week, see the  EUR/USD forecast
EUR/USD Sentiment
Egyptian crisis heightens today as the "million-man march" is planned in Cairo. There are growing signs that the Egyptian army is abandoning president Mubarak.
Greek default? Plans are drawn for a making a 25% haircut on Greek debt, codenamed "Brady plan". This has been overshadowed by the events in Egypt.
British contraction in Q4 weighs on the Euro.
The Irish parliament approved the finance bill, the final seal for the EU / IMF bailout program.
Spanish bond yields are dropping significantly to 5.27%. This helps the Euro.
Inflation is becoming problematic for Europe. This comes as employment is still high. Double trouble for Europe. Trichet showed concerns about inflation and boosted the Euro. It already reached 2.4%. Today the bears will probably be reinforced with the bad unemployment rate.
Currensee Community: 62% are long , 38% are short. These are 1369 open positions in real accounts trading this pair at the moment.