EUR/USD bounced off the low and stubborn resistance line and managed to return back up to the previous range. This day is very busy all over the world. Where will it go from here?  Here's a quick update on technicals, fundamentals and community trends.
EUR/USD Technicals
Asian session:  Recovered and climbed back above 1.35.
Current range – 1.3500 – 1.3570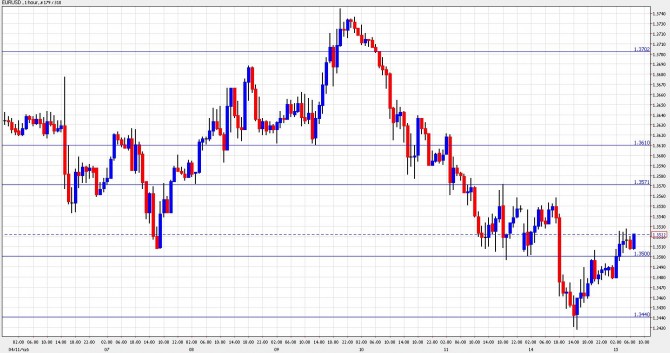 Further levels in both directions: Below    1.35, 1.3440, 1.3334, 1.3267, 1.3180, 1.3080, 1.2970.
Above: 1.3570, 1.3610, 1.37, 1.3760, 1.3830,  1.3950, 1.4030, 1.4160 and 1.4230.
1.3440 is important support below – just proved itself now.
The  failure  to conquer the critical 1.3760 is a bearish sign
Euro/Dollar breaking below support – click on the graph to enlarge.
EUR/USD Fundamentals –
6:30 French GDP. Exp. +0.6%. Actual +0.3% – disappointing.
7:00 German GDP. Exp. +0.5%. Actual +0.5%
10:00 All-European GDP
10:00 German ZEW Economic Sentiment. Exp. 20.1 points.
13:30 US Retail Sales. Exp. +0.5%. Core sales exp. +0.6%.
13:30 US Import Prices.  Exp. +0.9%.
13:30 US Empire State Manufacturing. Exp. 14.7 points.
14:00 US TIC Long-Term Purchases. Exp. 91.3 billion.
15:00 US Business Inventories. Exp. +0.7%.
18:00 US Treasury Sec. Tim Geithner talks.
* All times are GMT.
For more events later in the week, see the  EUR/USD forecast
EUR/USD Sentiment
Bailout talks for the troubled German bank WestLb, that were stuck yesterday, probably succeeded. This success aids the Euro.
The departure of Axel Weber from the ECB continues to weigh on the Euro.
Irish debt is too heavy: There are growing talks of a default in Ireland. Opposition party in Ireland, Fine Gael,  wants a haircut for senior bondholders. Now they have a precedent of a  default in Denmark to rely on. The current government left this issue for the next government.
A bailout for Portugal is getting closer as bond yields are rising and becoming unsustainable again.
Currensee Community: 60% are long , 40% are short. These are 1320 open positions in real accounts trading this pair at the moment.