EUR/USD dipped below the uptrend channel as the G-20 meetings begin. Will we see a collapse, or is it a false break? Here's a quick update on technicals, fundamentals and community trends.
EUR/USD Technicals
Asian session:  Made yet another attempt to conquer 1.3610 – it didn't stay above.
Current range – 1.35 – 1.3570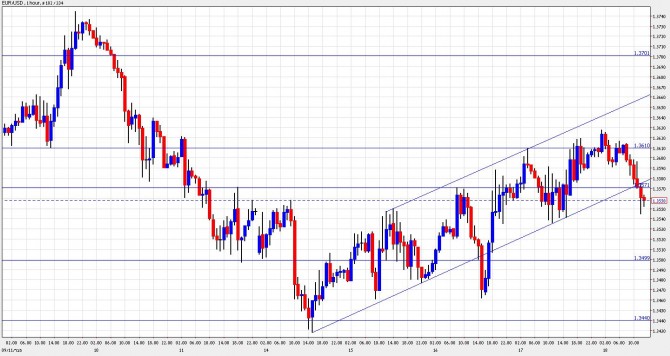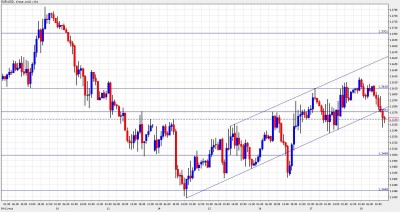 Further levels in both directions: Below     1.35, 1.3440, 1.3334, 1.3267, 1.3180, 1.3080, 1.2970.
Above:  1.3570, 1.3610, 1.37, 1.3760, 1.3830,  1.3950, 1.4030, 1.4160 and 1.4230.
1.3440 is important support below – just proved itself in recent days.
The  failure  to conquer the critical 1.3760 is a bearish sign
Uptrend channel is challenged – EUR/USD is now just below uptrend support, but it manages to hold above it, at least for now.
Euro/Dollar in channel – click on the graph to enlarge.
* Post updated 11:45 GMT.
EUR/USD Fundamentals –
7:00 German PPI. Exp. +0.6%, Actual +1.2%. Euro-positive.
13:00 Federal Reserve Chairman Ben Bernanke talks.
14:45 US Treasury Secretary Timothy Geithner talks.
* All times are GMT.
For more events later in the week, see the  EUR/USD forecast
EUR/USD Sentiment
China raises the Reserve Ratio Rate. This is not the first time, but the 0.50% scale is rather large. This hurts the Euro
G-20 meetings begin today. Statements released by the leaders will have an impact on currencies.
Unrest in the Middle East helps the US dollar. The focus is on Bahrain and Libya at the moment – both big exporters of oil. Note that the oil pipelines in Egypt aren't in full capacity as well.
The departure of Axel Weber from the ECB continues to weigh on the Euro – now there's a new candidate – Jens Weidmann, Chancellor Merkel's aide.
Irish debt is a big burden: There are growing talks of a default in Ireland. Opposition party in Ireland, Fine Gael,  wants a haircut for senior bondholders. Now they have a precedent of a  default in Denmark to rely on. The current government left this issue for the next government.
A bailout for Portugal is getting closer as bond yields are rising and becoming unsustainable again.
Currensee Community: 63% are long , 37% are short. These are 1525 open positions in real accounts trading this pair at the moment.