EUR/USD had an exciting week, rising to highs at first and eventually ending the week lower. Purchasing managers' indices  from France, Germany and the EU, as well as the German Ifo Business Climate are the highlights of this week. Here is an outlook for the events moving the single currency and an updated technical analysis for EUR/USD.
The rise was mostly based on the difference between central banks: the US and Japan continue with QE programs while the ECB is practically tightening. However, one hint of a rate cut was enough to send the euro down and remind everybody about the harsh reality, not only in the periphery, but also in the core. Disappointing data was released from Germany. The ZEW Economic Sentiment, slumped badly, dropping from 48.5 points to 36.3 points, way below the 41.5 points. Will the German economy succumb to euro recession? Let's start:
Updates: French Flash Manufacturing PMI came in at 44.4 points, just above the estimate of 44.2. French Flash Services PMI climbed to 44.1, beating the estimate of 42.3. German Flash Manufacturing PMI came in at 47.9, missing the estimate of 49.0. German Flash Services PMI dropped below the 50 level, to 49.2. The estimate stood at 51.1. Eurozone Flash Services PMI came in at 46.6 points, just shy of the forecast of 46.7. Eurozone Flash Manufacturing PMI recorded a reading of 46.5. The estimate stood at 46.8 points. Spanish HPI declined by 0.8% in Q1, a strong improvement from the 2.2% drop in Q4 of 2012. German Ifo Business Climate, a key event, will be released on Wednesday. EUR/USD is back above the 1.30 line. The pair was trading at 1.3016. German Ifo Business Climate looked weak, dropping from 106.7 points to 1.04.4. This was well short of the estimate of 106.4 points. Italian Retail Sales declined 0.2%, nowhere close to the estimate of 0.4%. German 30-year bonds brought in a yield of 2.16%. This lower than the previous yield of 2.45%. Belgium NBB Business Climate continues to look weak, coming in at -14.7 points. The estimate stood at -14.3 points. Spain's unemployment rate hit a new record, rising to 27.2 %. The euro has posted gains, as EUR/USD was trading at 1.3072.
EUR/USD daily chart with support and resistance lines on it. Click to enlarge: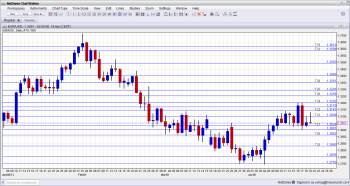 Jens Weidmann speaks:

Sunday, 18:30. Deutsche Bundesbank President Jens Weidmann will speak in Washington DC. His speech may cause volatility

in the market after he single handedly sent the euro down with his hint of a rate cut. His later denial / clarification didn't help too much.
Consumer Confidence:

Monday, 15:00. Euro zone consumer confidence improved slightly in March from last month to minus 23.5 from minus 23.6 in February. Economists expected a better reading of minus 23. Europe's debt crisis continued to weigh on consumer spending, slowing economic recovery. The same reading is expected now.

Flash Manufacturing and services PMIs: Tuesday. Eurozone manufacturing and services sectors both contracted in March. Flash Eurozone manufacturing Purchasing Managers' Index declined to 46.6 in March, from 47.9 registered in the February, missing predictions of a rise to 48.2. Meanwhile Services dropped a five-month low of to 46.5 from 47.3 in the previous month. Employment continued to decline for the fifteenth successive month signaling a further worsening in backlogs of uncompleted orders. Future conditions suggested another disappointment in April. France's flash services PMI declined to 41.9 in March, from 43.7 in February, while flash manufacturing PMI remained unchanged at 43.9 in March. Germany's manufacturing PMI also disappointed, down to 48.9 in March from 50.3 in February, indicating a setback to contraction in business activity, while the service sector declined to 51.6 points from 54.7 points. The weak data suggests the Eurozone business environment worsened sharply in March. The deteriorating situation in Cyprus also contributed to these declines. The expected reading are: French Manufacturing PMI 44.2, services 42.3, Germany Manufacturing PMI 49, Services 51.1, Eurozone Manufacturing PMI 46.8 and Services 46.7.
Italian Retail Sales:

Tuesday, 9:00. Retail sales in Italy dropped 0.5% on January, following a 0.1% decline in December. Analysts expected sales to remain unchanged. Furthermore, industrial turnover dropped 1.3% from the previous month and industrial orders declined 3.3% annually in January and were down 1.4% compared to the previous month. A rise of 0.4% is forecasted this time.

German Ifo Business Climate: Wednesday, 9:00. German business climate declined to 106.7 in March, from 107.4 in February, missing predictions for a rise to 107.8. Businesses were less optimistic about their future business outlook, but assessed their current business situation almost as positively as last month. Nevertheless there is a positive growth trend in the German economy. A further decline to 106.4 is expected.

 

Belgium NBB Business Climate:

Wednesday, 9:00. Belgian business sentiment dropped to a three-and-a-half year low in March, reaching -15 from -11 in February, suggesting the Eurozone recession is still around. Economists expected an improvement to -10.3. The Belgian economy was relatively resistant to the recession since a large part of its exports went to Germany, but things have steadily deteriorated over the course of the year, worsened by the high wages in Belgium, badly affecting its competitiveness. A small improvement to -14.3 is predicted now.

Spanish Unemployment Rate:

Thursday, 8:00. Spain's unemployment reached a record high of 26% in the fourth quarter of 2012, amid a continuous recession and harsh spending cuts amounting to almost 6 million unemployed at the end of last year. The government's efforts to decrease deficit by huge spending cuts and tax hikes have deeply bruised consumer spending, leaving the Spanish economy deep in recession. Another increase to 26.5% is forecasted.

German Import Prices:

Friday, 7.00. The German Import Prices increased 0.3% in February, following a 0.1% gain registered the previous month, analysts expected a smaller increase of 0.2%. On an annual basis the German Import Price Index fell 1.6%, following a 0.8% drop and in line with expectations. A flat reading is expected now.

M3 Money Supply;

Friday, 9:00. Euro zone M3 money in circulation increased at an annual pace of 3.1% in February, slower than the 3.5% registered in January. The increase was lower than the 3.2% rise predicted by analysts. Economists believe the euro zone returning to growth in mid-2013. ECB President Mario Draghi said the ECB's top priority is to facilitate banks to use their collateral and provide lower borrowing costs for all households and businesses including the periphery of the euro zone. A rise of 3.0% is forecasted.
*All times are GMT
EUR/USD Technical Analysis
Euro/dollar began the week by trading within a limited range, between the 1.3030 and 1.31 lines (mentioned last week). It then leaped and challenged the round 1.32 line before falling all the way to 1.30. The roller coaster continued and the pair eventually closed at 1.3051.
Live EUR/USD chart:
[do action="tradingviews" pair="EURUSD" interval="60″/]
Technical lines from top to bottom:
1.34 was a stubborn cap during the spring of 2012 and continued its stubborn stance in January 2013 – the line now serves as resistance. These are the head and shoulders lines. 1.3350 was a peak in January 2013 and worked very nicely as support during February. The line is weaker now.
Below, 1.3290 served as resistance before the pair collapsed in May, After many failures to break higher, the euro finally pushed through. 1.3255 provided support during January 2013 and also beforehand. A recovery attempt failed to reconquer this line.
1.32 joins the chart after capping the pair twice in April 2012. This is a round number as well. 1.3170, which was the peak of September, served as support for the pair after the break in December but it is weaker now.
1.3140 capped the pair during April, and it safeguards 1.3170. 1.3100 is a minor line after working as temporary resistance in December 2012. It is followed by 1.3050, which capped the pair in early April and also had a role beforehand.
The very round 1.30 line was a tough line of resistance for the September rally. In addition to being a round number, it also served as strong support. It is becoming stronger. 1.2960 provided some support at the beginning of the year and also in September and October – the line is strengthening once again after working as a triple bottom. It remains an important line.
Lower, 1.2880 worked in both directions during 2012 and was the beginning of the uptrend support line. The recent breakdown turned the line into strong resistance. Lower, 1.2805 was the bottom border of the wide 1.2805-1.3170 that characterized the pair's trading for a long time.
Below, 1.2750 worked as a separator of ranges during November, and stopped the pair's drop in March. This is a key line on the downside, as clearly shown in the first week of April. This is followed by the round number of 1.27, which is a minor line.
I remain bearish on EUR/USD
While Japan's  comprehensive QE program only received a slap on the wrist from the G-20, the positive impact is limited. Europe has a wide range of issues: from debt crises in Cyprus, Slovenia and Portugal, through a political crisis in Italy (which saw interesting developments over the weekend) and up to weakness in core countries. And even though indicators in the US have soured, the US GDP release will probably be a reminder that the US is enjoying uninterrupted growth while Europe is in a recession.
More technical analysis, just before the recent fall: EUR/USD Advances to Key Resistance by James Chen.
If you have interest in a different way of trading currencies, check out the weekly binary options setups, including EUR/USD and more. Further reading:
Get the 5 most predictable currency pairs