EUR/USD  was certainly pressured lower by the Fed hike. In the week of Christmas, the calendar is relatively light, but there are still some interesting developments that could rock the euro on low liquidity. Here is an outlook for  the highlights of this week and an updated technical analysis for EUR/USD.
German data was relatively mixed with one survey, ZEW, beating expectations while the other, IFO came a bit below them. Also PMIs didn't change the balance and neither did Draghi: his attempts to do damage control have very limited success. However, Draghi probably got what he wished for from the Fed: the historic rate hike was not dovish and consisted of intention to raise more than expected in 2016.
[do action="autoupdate" tag="EURUSDUpdate"/]
EUR/USD daily graph  with support and resistance lines on it. Click to enlarge: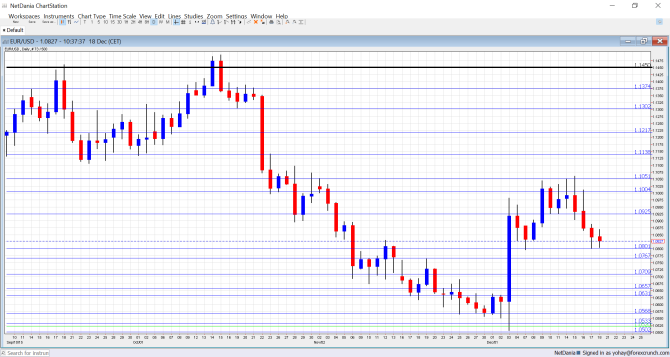 Spanish elections: Sunday, initial results before markets open with full results later on. Spain's traditional two party system is about to change with four  big parties trying to garner votes. According to polls, no party is set to win an absolute majority. The best outcome for markets is a coalition between the current ruling center right PP and the new Ciudadanos party. Other coalitions, such as led by the left wing PSOE and Podemos  are also possible. The worst outcome would be a situation of a hung parliament. A clear result would help the euro.
German PPI: Monday, 7:00.
Bundesbank monthly report: Monday, 11:00. The German central bank publishes an assessment about the state of the German economy. The recent global developments have been better than the worst that was feared. In addition the VW crisis is not as huge as predicted.
Consumer Confidence: Monday, 15:00. This official publication by Eurostat showed ongoing negative sentiment in the euro-zone, with -6 points, better than in previous months but still showing pessimism.
German import prices: Tuesday, 7:00. Prices of imported goods feed into inflation and due to low oil prices (among other factors), import prices have been negative. A drop of 0.3% was recorded in October and another slide is likely now.
German GfK Consumer Sentiment: Tuesday, 7:00. Consumer confidence has been eroding in recent months, with the figure  gradually on the fall. A score of 9.3 points was seen in this 2000 strong survey back in November.
Belgian NBB Business Climate: Tuesday, 14:00. This wide survey is considered to reflect sentiment not only from Belgium but from across the continent. While it has still been negative in November, it is improving and saw -3.9 points. We now get the fresh figure for December.
French Consumer Spending: Wednesday, 7:45. After many months of rises, consumers in the continent's second largest economy slashed spending in October, down by 0.7%. Will we see a rebound now?
* All times are GMT
EUR/USD Technical Analysis
Euro/dollar  traded at high  ground above 1.0925 (mentioned last week). From there it  chopped in both directions, eventually closing on lower ground.
Live chart of EUR/USD: [do action="tradingviews" pair="EURUSD" interval="60″/]
Technical lines from top to bottom:
1.13 worked as support back in October and is the high line at the moment. It is followed by the swing low of 1.1220 in September which is minor resistance now.
1.1140 cushioned the pair in October.  1.1050 is the high seen in December and the next challenge on the upside.
1.10 is a round number and  significant resistance.  1.0925, which was a support line in December, is the next support line. It is closely followed by 1.0880 which is weak resistance in the range.
The round level of 1.08 worked as a double bottom in December and should be watched.  1.0710 is the  next support line on the  chart after temporarily capping the pair in April 2015.  1.0630 worked as nice support in November 2015 and then switched to resistance.
It is the last line  before plunging to 1.0530, that supported the pair in April.  Below, the 12 year low of 1.0460 seen in March.
I remain  bearish  on  EUR/USD
A hike is a hike in the US and eventually the ECB cut will be seen as a cut. But it's not only the past but also the future: monetary policy divergence is still here to impact markets, and this means another slide for EUR/USD.
Our latest podcast is titled The Fed Awakens, and what's next?
Follow us on Sticher or on iTunes
Further reading: