EUR/USD  certainly enjoyed a recovery, resulting mostly from weakness in the USD. Has it bottomed out? A testimony by Mario Draghi, PMIs and another important German survey are the big events of the week. Here is an outlook for  the highlights of this week and an updated technical analysis for EUR/USD.
Yet again, German  business sentiment fell short of predictions. The Greek crisis is still around with ongoing discussions and tensions. In the US, the Fed certainly sounded more dovish despite removing the "patience" guidance. This hurt the dollar badly and even sent EUR/USD above 1.10 temporarily. However, this  was quickly reversed. The pair staged a second late rally.
[do action="autoupdate" tag="EURUSDUpdate"/]
EUR/USD daily chart  with support and resistance lines on it. Click to enlarge: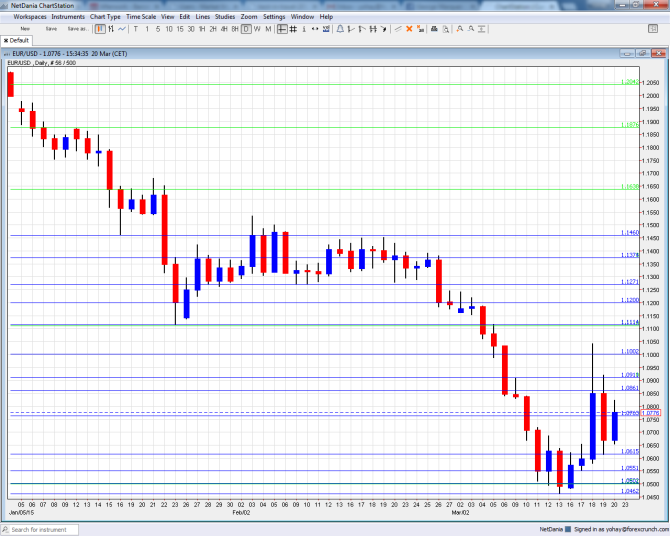 Mario Draghi testifies: Monday, 14:30. The president of the European Central Bank goes to Brussels to testify on current affairs. On one hand, economic indicators as well as the  institutions' own forecasts are on the rise. On the other hand and as Draghi already weighed in, these forecasts depend on implementation of QE. A determination regarding QE would weigh on the common currency while optimism could boost it.
Consumer Confidence: Monday, 15:00. This official survey of 2300 consumers by Eurostat has shown improvement in the past 3 months, with the indicator reaching -7 points. The negative number still reflects  pessimism in the currency zone. Another advance to -6 is predicted.
Flash PMIs: Tuesday, France at 8:00, Germany at 8:30 and the whole euro-zone at 9:00. These are preliminary figures for March. French manufacturing still points to contraction, with February's score standing at 47.6 points, below the 50 points level that separates contraction and growth. A rise to 48.9 points is predicted. The services sector for the area's second largest economy is expected to  tick down from 53.4 to 53.1 points, reflecting some growth. In Germany, the zone's  locomotive, manufacturing carries expectations for a small rise from 51.1 to 51.5 points, hardly on the growth side. Services look much better at 54.7 points, and an advance to 55 points is estimated. For the whole euro-zone, the  flash March data is expected to show manufacturing rising from 51 to 51.6 points and  services from 53.7 to 53.9 points.
Belgian NBB Business Climate: Tuesday, 14:00. This wide 6000 strong survey has advanced from -8.8 to -8.3 points in February, still showing  worsening economic conditions expected by businesses. A rise to -7.5 is on the cards now.
German Ifo Business Climate: Wednesday, 9:00. Germany's conservative think tank showed a smaller than expected rise in business confidence to 106.8 points in February. After ZEW showed another small rise for March, IFO is expected to follow suit and show a rise to 107.4 points.
German GfK Consumer Climate: Thursday, 7:00. This survey of 2000 consumers  moved higher quite nicely in recent months. After ticking up to 9.7 points in February, another rise to 9.8 points is on the cards now.
M3 Money Supply: Thursday, 9:00. The ECB's monetary easing is reaching the real economy according to this measure, with an acceleration of money in circulation. After reaching an annual level of 4.1% in January, another  rise to 4.3% y/y is on the cards now.
Private Loans: Thursday, 9:00. Also in the  volume of private loans an improvement has been recorded thanks to easier conditions. The annual fall has been a minor 0.1% in February after months of lower levels. The y/y change is expected to turn positive now with 0.1% growth.
German Import Prices: Friday, 7:00. Prices of imported goods affect inflation in the zone's largest country. After a drop of 0.8% m/m in January, a bounce back of 0.5% is on the cards for February, with the  bounce back in oil prices during that month.
* All times are GMT
EUR/USD Technical Analysis
Euro/dollar kicked off the week in the well known ranges. It then shot up and temporarily breached 1.10, but the real level of resistance was seen at 1.0910 (mentioned last week). The pair then fell to 1.0615 before rising again.
Live chart of EUR/USD: [do action="tradingviews" pair="EURUSD" interval="60″/]
Technical lines from top to bottom:
1.1373 was the low line seen in November 2003 and proved to work as resistance and support lately. Below the initial low point of 1.1313 we  have 1.1270, which  provided support twice in February 2015.
The round number of 1.12 was  the pivotal line in the range. It is followed by the fresh low of 1.1113 which is nearly 0.90 on USD/EUR.
The next line is the round  1.10. It was minor support  back in  October 1999: 1.0910. It was resistance back then and was tested once again in March 2015.
This is followed by 1.0860, which is where the pair paused in March 2015.  The next line is  1.0760, which was the low point in both July and August 2003.
1.0615 worked in both direction during March 2015 and is better at support.  Another minor line is 1.0550, for  a role as support in the same period of time.
The very round level of 1.05 served as support during 2003. The lowest level in over 12 years is 1.0462 and this makes it critical support.
From here on, we are at levels last seen over a decade ago.  We have some support at 1.0360: this was the low point in January 2003.  Further down, 1.0170 worked as resistance back in November 2012. It is close to the swing high of 1.0208 seen in July of that year.
Below this point we have the very obvious level of  1 – EUR/USD parity, which is already eyed  by more analysts.
I am bearish on  EUR/USD
The ongoing implementation of QE in the euro-zone  continues weighing on the pair and Draghi will probably let us know that he will not let go, as he already did. In addition, worries about Greece could  add more pressure. We have seen a recovery thanks to a more dovish Fed, especially in the lack of rush to raise rates, or more precisely, they will not move fast once the first hike is announced. Nevertheless, the question remains: what currency would you buy against the dollar? The euro is not the first one that comes to mind.
In our latest podcast we discuss  The Fed and the road ahead – all you need to know
Subscribe to Market Movers on iTunes
If you are interested a different way of trading currencies, check out the  weekly binary options setups, including EUR/USD and more.
Further reading: