Euro/dollar  had everything working in its favor and enjoyed a very impressive rally. The German court approved the ESM, Bernanke delivered QE3 and even the Dutch elections resulted in a strong outcome for pro-European parties. Are we set for a continuation or for a correction after 1.30 was conquered? Here is an outlook for the upcoming events and an updated technical analysis for EUR/USD.    
While the constitutional court in Karlsruhe set a few conditions, it generally gave its nod to the ESM, which was finally ratified by the German president. All the balls are in the Spanish court, but with already lower yields and internal tension, the Spanish government is hesitant. In the US, Bernanke went for aggressive monetary policy: open ended QE worth $40 billion a month, in addition to ongoing Operation Twist and an extension of the pledge for lower rates until 2015.
Updates: Spain is taking its time with asking for help. It was able to raise money in the short end of the curve, but bad loans hit a new record. In Germany, the economic sentiment is improving. EUR/USD slid to around 1.3070, above support at 1.3060. German ZEW Economic Sentiment posted a reading of -18.2 points, better than the estimate of -19.2 points. Euro-zone ZEW Economic Sentiment was much stronger than expected, at -3.8 points. The estimate stood at -16.3 points. The euro has lost ground as concern continues about a Spanish bailout request. EUR/USD was trading close to the 1.30 line, at 1.3012. The euro continues to lose ground after mixed European PMI data. French data was very weak with  Flash Manufacturing PMI plunging to 42.6 points. The estimate stood at 46.5. French Flash Services also declined sharply, posting a figure of 46.1. The forecast was 49.5.  German data looked good, as German Flash Manufacturing PMI recorded 47.3, above the forecast of 45.4. German Flash Services PMI came in at 50.6, beating the estimate of 48.5. Euro-zone Flash Manufacturing PMI posted 46.0, slightly above the forecast of 45.6. Euro-zone Flash Services PMI fell to 46.0, below the estimate of 47.6 points. German PPI rose 0.5%, a notch above the forecast of 0.4%.  The 10-year Spanish Bond Auction raised 4.8 billion euros, which was higher than the estimate of 4.5B. As well, yields dropped to 5.55%, well down from the previous yield of 6.64%. Euro-zone Consumer Confidence will be released later on Thursday. EUR/USD has dropped below 1.2950, as the pair was trading at 1.2948.
EUR/USD daily graph with support and resistance lines on it. Click to enlarge: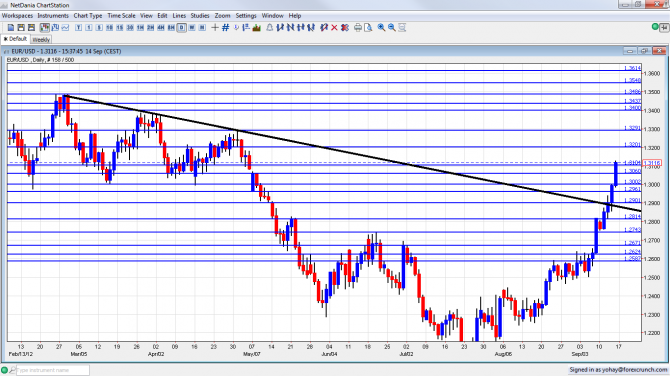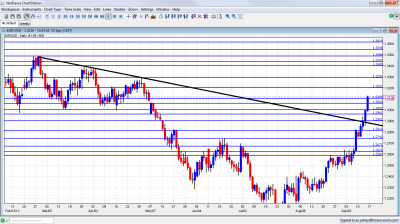 Current Account: Monday, 8:00. The euro-zone enjoyed a relatively high surplus, thanks to Germany. The surplus reached 12.7 billion in June and will likely remain at a similar level now in this wide figure.
Trade Balance: Monday, 9:00. Germany saw another month of a high  surplus in July, and this will likely push the all-European figure higher than 10.5 billion seen in June.
German ZEW Economic Sentiment: Tuesday, 9:00. The survey of 350 institutional investors and analysts tends to be somewhat pessimistic, yet realistic. It has fallen in the past 4 months, reaching a negative level of -25.5 in August. A small improvement is expected now, and this could help the euro. The all-European figure is expected to remain around the -21.2 figure seen last month.
Spanish 10 Year Bond Auction: Thursday. Spain will test the mood of the markets with this auction of benchmark bonds. Spain has seen significant improvements in the secondary market, and it hopes to pay a lower price in the primary market.
German PPI: Thursday, 6:00. The next potential rate cut of the ECB also depends on inflation, especially in Germany. In the past 4 months, producer prices came out below expectations. Prices remained flat last month.
Flash PMIs: Thursday, begins in France at 7:00, continues in Germany at 7:30 and ends with the all European figure at 8:00. These purchasing managers' indices are forward looking indicators and are highly correlated to GDP, making them very important. All the indicators are below the 50 point mark separating growth from contraction.
Consumer Confidence: Thursday, 14:00. The official Eurostat survey is usually quite steady. So, the recent drop from -22 to -25 was quite a disappointment. A small improvement is likely now. The negative number reflects consumer pessimism.
Mario Draghi talks: Thursday, 16:00. The president of the ECB will be speaking in Frankfurt and could shed more light on the usage of the OMT and about the next rate decision.
Belgian  NBB Business Climate: Friday, 13:00. This wide survey is negative since May 2011. After sliding to -11.8 points last month, a small rise is expected now.
* All times are GMT
EUR/USD Technical Analysis
€/$
Technical lines from top to bottom:
We start from even higher ground this time: 1.3615 provided support to the pair when it was trading at elevated levels back in the fall of 2011. 1.3550 served as a cap at that same period of time.
1.3480 is very important resistance: it was the peak seen in February. At the time, it was very stubborn. 1.3437 is of historic significant and is a minor line now.
The round level of 1.34 is a strong cap after serving as such during March. 1.3290 worked as resistance for the pair during April and is also of importance.
The round number of 1.32 also served as resistance at that time and is minor resistance. 1.3105 provided some support in April and is a weak line at the moment. 1.3060, was a clear separator in May and also had an important role beforehand. It slowed the rally in September 2012.
The very round 1.30 line was a tough line of resistance for the September rally. In addition to being a round number, it also served as strong support. It is closely followed by 1.2960 which provided some support at the beginning of the year.
1.29 is also notable after providing some support in May. 1.2814 was the peak of a recovery attempt in May and also capped the pair in September 2012.
1.2750 capped the pair after the Greek elections and also had a similar role in the past. It is weaker now.  1.2670 was a double bottom during January and was the high line of the recovery before the Greek elections in June. It also capped the pair at the beginning of July 2012.
1.2624 is the previous 2012 low and remains important as also seen at the end of August, when it served as resistance. Below, 1.2587 is a clear bottom on the weekly charts but after holding the pair down for a while, but it is weak now.
Long Term Downtrend Resistance Broken
The line starting from February at the 1.3486 peak was formed in March and April. The recent rally sent the pair surging through this level, as the graph shows. The break of this level is a positive sign for the bulls.
I am neutral on EUR/USD
With the European issues  gradually  improving, and with a  devaluation  of the dollar, what can stop the pair? A formal request from Spain is still needed, as its issues become more complicated, Greece's issues are still very serious and also the value of the euro isn't exactly favorable to the pair.
It's also important to remember that US weakness, seen in yet another recession call, can eventually boost the dollar in classic risk aversion. In addition, a violent correction after such a rally cannot be ruled out, at least in the short term.
If you have interest in a different way of trading currencies, check out the  weekly binary options setups, including EUR/USD, GBP/JPY and more. Further reading: