Euro/dollar  corrected some of the huge gains following the announcement of QE3. Both Greece and Spain are in the limelight, as uncertainty prevails. Spain will have an opportunity to ask for aid when it presents its budget. In addition, a speech by Draghi, an important German survey and Italian bond auction are among the big events awaiting markets. Here is an outlook for the upcoming events and an updated technical analysis for EUR/USD.    
Tensions within Spain are growing after Spanish PM gave a clear negative answer to requests for a new fiscal pact with Catalonia. The rich region is set to accelerate its moves towards secession from Spain, in a not-so-favorable timing for the country. In Greece, the troika took a break after reporting progress. This seems like a repeat of the previous round, that ended in a revolving door  exercise  from the ECB to buy time. In the US, figures remain mediocre, implying the QE3 could indeed be QE-infinity.
Updates: The euro  has gained some ground,  after some choppy trading earlier this week. German data  continues to disappoint the markets.  German Consumer Climate came in at 5.9 points, below the estimate of 6.0  points. This weak figure  came on the heels  of Monday's German Business  Climate, which plunged to  its lowest level since March 2010. ECB President Mario Draghi  delivered a speech in Berlin. EUR/USD was trading at 1.2959.  The markets were pleased with some positive German data on Thursday. Import Prices jumped 1.3%,  beating the  forecast of 0.9%. Unemployment Claims remained at 9 thousand, slightly lower than the estimate of 10K. M3 Money Supply rose 2.9%, below the forecast of 3.3%. Euro-zone Private Loans  declined 0.6%, well below the market estimate of a 0.1% gain. Euro-zone Retail PMI hit a three-month high,  climbing to  47.1 points. The 10-year yield at the Italian Bond Auction was successful. Yields dropped to 5.24%, well down from the previous release of 5.82%. The Treasury sold 5.645 billion euros worth of debt, close to the near the maximum targeted amount. EUR/USD is steady, as the pair was trading at 1.2888.
EUR/USD daily chart with support and resistance lines on it. Click to enlarge: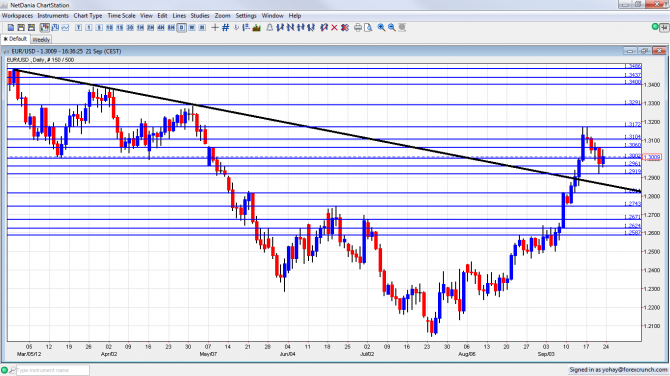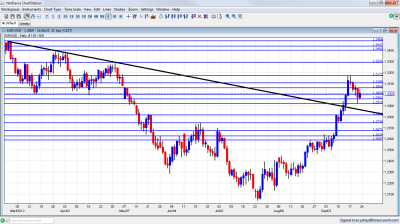 German Ifo Business Climate: Monday, 6:00. Germany's No. 1 Think Tank showed a deterioration in the business climate in the past 4 months, reflecting the worries about the debt crisis. After falling to 102.3 points last month, a small rise is expected now in this 7000 strong survey, to 102.7 points. It's important to note that the other important survey, by ZEW, surprised to the upside.
GfK German Consumer Climate: Tuesday, 6:00. According to this survey of around 2000 consumers, the mood remains stable in Europe's biggest economy. The index rose to 5.9 points last month, after seeing similar levels in previous months.
Mario Draghi talks: Tuesday, 13:00. The president of the ECB will speak in a conference in Berlin and could discuss the ECB's bond buying program. The launch of the program already had a positive impact on markets, but this will not last without a Spanish aid request. One of his colleagues said that the ECB plans to use the program and not just use it as a bazooka. Draghi will likely relate to that.
German CPI: Wednesday. Each German state releases the initial estimate of the consumer price index at a different time during the day. A stronger than expected rise of 0.4% was recorded in August. This time, prices are expected to remain flat.
Italian 10 year bond auction: Thursday. Confidence in Italy's finances will be tested in an auction of benchmark 10 year bonds. The last auction resulted in a yield of 5.82%, lower than the previous one but still too high. Italy needs positive news from Spain in order to enjoy better market conditions.
Spain presents budget: Thursday. The Spanish government meeting is expected to be busy this time, with the presentation of the 2013 budget . Presenting these plans is expected to ease market tensions and perhaps serve as an alternative to a full bailout program. This is at least the wish in Madrid, that might take its time until October 21. On the other hand, there is speculation that Rajoy's government will make the official submission for a bailout on this day, coinciding with the new budget.
German Import Prices: Thursday, 6:00. German inflation has a strong impact on the ECB's rate decisions. After a rise of 0.7% last month, a bigger rise of 0.9% is predicted now. A strong rise may delay a potential rate decision.
German Unemployment Change: Thursday, 7:55. After enjoying drops in unemployment throughout most of the crisis, Germany suffered a rise in the past 5 months, showing that the European locomotive is not immune. A similar rise to last month's 9K is predicted now.
M3 Money Supply: Thursday, 8:00. The amount of money in circulation has been on the rise of late, partly thanks to the ECB's LTROs. After a rise of 3.8% last month, a slower year over year rise is expected now: 3.3%.
French Consumer Spending: Friday, 6:45. Europe's second largest economy will release consumer spending for two months instead of one. The last release saw a rise of 0.1%.
Retail PMI: Friday, 8:10. This release by Markit is gaining more and more traction. The last time that this figure was positive (above 50 points) was back in October 2011. The last month saw a drop from 46.4 to 44.4 and the upcoming publication is not expected to be better.
CPI Flash Estimate: Friday, 9:00. After Germany will release its initial number, the first estimate  for September. Annual price rises stand on 2.6% and a drop to 2.4% is predicted now.
* All times are GMT
EUR/USD Technical Analysis
€/$ began the week at the highs seen in the previous one, but gradually slid lower. After an encounter with the 1.30 line (discussed last week), the pair continued lower and bottomed out at 1.2920 before starting a new struggle with 1.30.
Technical lines from top to bottom:
1.3615 provided support to the pair when it was trading at elevated levels back in the fall of 2011. 1.3550 served as a cap at that same period of time.
1.3480 is very important resistance: it was the peak seen in February. At the time, it was very stubborn. 1.3437 is of historic significant and is a minor line now.
The round level of 1.34 is a strong cap after serving as such during March. 1.3290 worked as resistance for the pair during April and is also of importance.
1.3170 worked very well as a double top during September 2012 and is now the top frontier. 1.3105 provided some support in April and is a weak line at the moment.
1.3060, was a clear separator in May and also had an important role beforehand. It slowed the rally in September 2012 and is still very relevant.
The very round 1.30 line was a tough line of resistance for the September rally. In addition to being a round number, it also served as strong support. It is now becoming more pivotal. It is closely followed by 1.2960 which provided some support at the beginning of the year and also in September.
1.2920 worked as both support and resistance and is becoming an important cushion for the pair. 1.2814 was the peak of a recovery attempt in May and also capped the pair in September 2012.
1.2750 capped the pair after the Greek elections and also had a similar role in the past. It is weaker now.  1.2670 was a double bottom during January and was the high line of the recovery before the Greek elections in June. It also capped the pair at the beginning of July 2012.
1.2624 is the previous 2012 low and remains important as also seen at the end of August, when it served as resistance. Below, 1.2587 is a clear bottom on the weekly charts but after holding the pair down for a while, but it is weak now.
Long Term Downtrend Resistance Broken
The line starting from February at the 1.3486 peak was formed in March and April. The recent rally sent the pair surging through this level, as the graph shows. While  the pair is sliding towards this line, the presence of the pair above it is positive for the euro.
I turn from neutral to bullish on EUR/USD
After the big correction from the QE3 move, there is room for a renewal of the upwards move, especially as US unemployment doesn't look too encouraging. With Greek issues probably moved out of the way for the short term, the debt crisis sharpens its focus on Spain.
The euro-zone's fourth largest economy could be in one of its darkest spots, but perhaps closer to dawn. A lot depends on the new budget presented on Thursday and a potential progress towards receiving aid from the ECB. Submitting an aid request is long overdue. Will Spain rest after the successful auction? Or will it move forward before conditions become unbearable?
If you have interest in a different way of trading currencies, check out the  weekly binary options setups, including EUR/USD, GBP/JPY and more. Further reading: