Euro dollar is now moving higher ahead of the critical votes in the Greek parliament, that have been postponed. A banking conference in Rome is discussing "volunteering" of the private sector to restructure Greek debt, while some leaders begin playing down the impact of a Greek default. We have a few US indicators to start the week. Here's a quick update on technicals, fundamentals and what's going on in the markets.
EUR/USD Technicals
Asian session:Active session saw EUR/USD dip below 1.4120 before making a recovery in the European session.
Current range 1.4160 to 1.4220.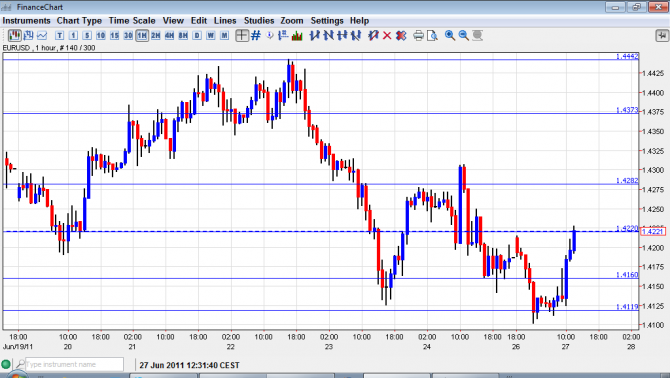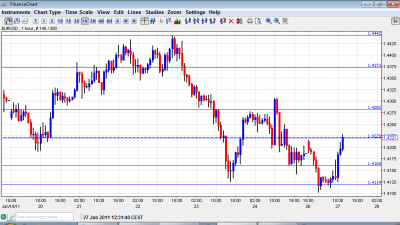 Further levels in both directions: Below 1.4160, 1.4120, 1.4030, 1.3950, 1.3860, 1.3750, 1.3440.
Above:  1.4220,  1.4282, 1.4375, 1.4450, 1.4550 and 1.4650.

1.4282 is now weaker resistance but is still an important hurdle on any recovery attempts.

1.4160 provides support, although stronger support is at 1.4030.
Euro/Dollar moving up  – click on the graph to enlarge.
EUR/USD Fundamentals
12:30 US Personal Spending. Exp. +0.2%.
12:30 US  Core PCE Price Index. Exp. +0.2%.
12:30 US Personal Income. Exp. +0.4%.
15:00 US FOMC member  Narayana Kocherlakota speaks. Mildly hawkish tone expected.
For more events later in the week, see the Euro to dollar forecast
EUR/USD Sentiment
Preparing for a Greek default: The German finance minister, Wolfgang Schaeuble, said that Europe is prepared for the worst, and will be able to cope with it. Also the Austrian prime minister  Werner Faymann, said that the option of default cannot be ruled out. George Soros said that Greece leaving the Euro-zone is probably inevitable.
Not enough votes for Greek austerity? A fresh comment by the deputy prime minister casts doubts on whether the austerity measures will pass in the Greek parliament.The plan  already has some hole… The important vote is the second one, on the laws that implement the plan, and especially the laws about privatization.

Private sector contribution: A conference in Rome is discussing details of a private sector participation in the Greek crisis – by rolling over the Greek debt. This comes after the French banks agreed  to Greek restructuring. They are the biggest holders of Greek debt. The big question is: Will CDS will be triggered under this "voluntary" participation?
Italian Bank Shares Trading Suspended: Moody's warned that Italian banks will get a credit rating downgrade. This sent the shares down and triggered a suspension of trading.  Intesa and Unicredit are big banks in the European level, and this is problematic.
No QE3: In the press conference that followed the rate decision, Ben Bernanke played down the option of another quantitative easing program. He compared the same period one year ago, and said that employment is rising faster and there is no threat of deflation now. No new dollar printing is good for the dollar.