Ripple is roaring, some 16% on the day and above $1.25. XRP/USD is now above the previous all-time high that was seen on Friday, just before the big crypto-crash. The high so far has been 1.2699, just under 1.27. The next line of resistance could await at $1.32.
Ripple/USD stands out amid mixed movements in other digital currencies. For example, XRP is up some 30% against bitcoin.
Update:  Ripple Price: 3 reasons why XRP/USD rallies while the rest reel
Here is the chart, with more details and levels below: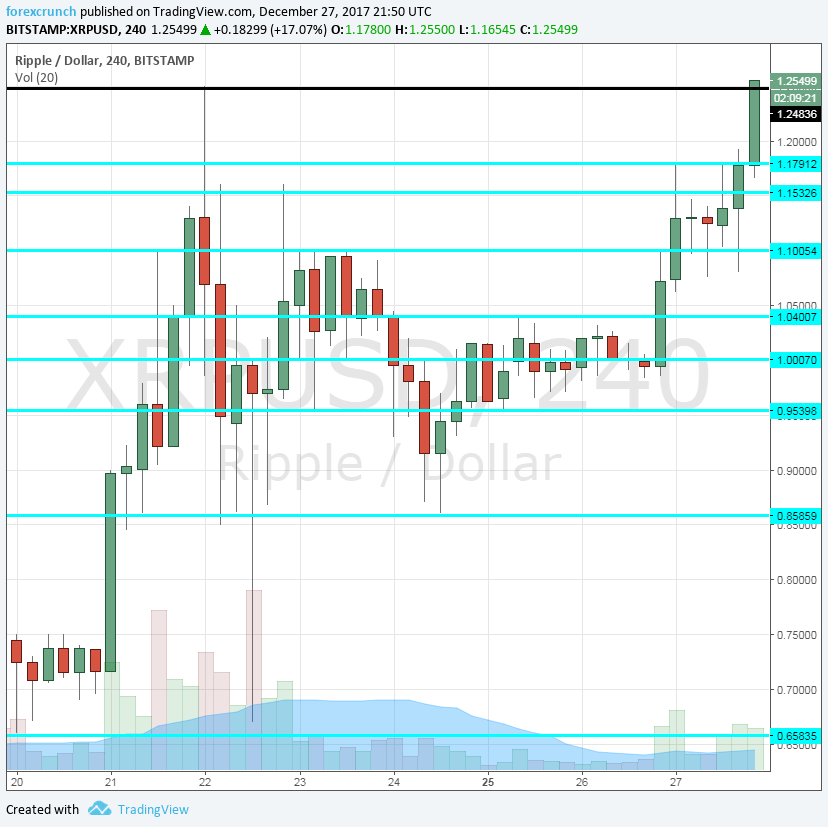 After its peers stabilized and XRP/USD hugged parity,   this coin was already moving to a higher range during the day, challenging the highs. We noted that XRP was playing to its own tune.
On the way, XRP/USD climbed above the previous cap of the range at 1.0350, moved above 1.10 and stalled at 1.15. All can serve as cushions if we get a big correction from here.
And then, Ripple/USD created a double-top at 1.18, The technical behavior it showed was quite impressive given the high volatility. Yet after topping the technical barrier of 1.18, it did not take long to rip to new highs.
What's next for this popular Asian cryptocurrency? It traded in a range between 1.18 and 1.25, so we can extrapolate this 7 cent range and expect the next level of resistance to wait some 7 cents higher, at 1.32.
However, the high levels of volatility amid digital coins in general and in this specific cryptocurrency today, moves could be wild.
Regular currencies are moving relatively slowly, but even the strengthening Australian dollar is no match for XRP: The price of Ripple in AUD is around 1.60, quite a jump for XRP/AUD in comparison to previous days.
More:  Can cryptos can cause bankruptcy for brokers?
Ripple received a boost from Japan: a group of banks plans to test the technology in the first quarter of 2018, which is just around the corner.
The  Segwit2x Fork is back in the news rocking digital coins, but this is limited to bitcoin, not other cryptocurrencies. There were quite a few announcements and cancellations around the forkings.
More:  On the Bitcoin Block: 7 Myths about trading cryptocurrencies