A busy week expects loonie traders, with inflation figures providing a strong finish. Here's an outlook for the Canadian events and an updated technical analysis for USD/CAD.
USD/CAD graph with support and resistance lines on it. Click to enlarge: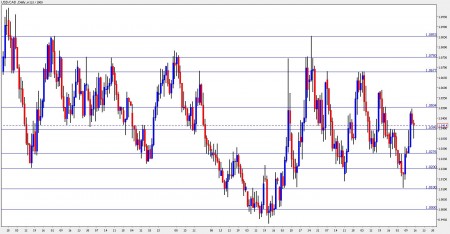 The Canadian dollar retreated mostly on the FOMC Statement, and not on Canadian issues. This week, USD/CAD will be more dependent on Canadian events. Let's start:
Foreign Securities Purchases: Published on Tuesday at 12:30 GMT. The net difference between assets purchased and sold by foreigners is an indicator of confidence in the economy. In the past two months, this indicator came out far better than expected, topping 23 billion last month. This time, the positive figure is expected to squeeze to 10 billion.
Manufacturing Sales: Published on Tuesday  at 14:30 GMT. The volume of sales made by manufacturers is expected to drop for the first time in 10 months, with a drop of 0.4%, the same scale as the rise last month. This tends to shake the loonie.
BOC Review: Published on Thursday at 12:30 GMT. This overview of the economy shows us how the Bank of Canada sees the economy, and might include hints about future rate moves.
Leading Index: Published on Thursday  at 12:30 GMT. Though somewhat overshadowed by wholesale sales, this composite index managed to boost the loonie in recent months, exceeding expectations time after time. Last month's nice 1% rise will probably be followed by a rise of 0.7%.
Wholesale Sales: Published on Thursday  at 12:30 GMT. This important indicator disappointed as it dropped in the past two months. This time, the volume of sales by wholesalers is expected to rise by 0.4%, a healthy and steady rise.
CPI: Published on Friday at 11:00  GMT. The best is kept for last. After two rate hikes, the key to more moves depends on inflation. Last month was quite weak, with 0.1% drops in both CPI and Core CPI. No big moves are expected this time, as consumer prices are expected to remain almost unchanged. Only a rise of 0.5% will force another rate hike soon.
USD/CAD Technical Analysis
The Canadian dollar struggled with the 1.0280 line, and eventually lost it. The rise above 1.04 led to resistance at 1.05 (a line added on last week's outlook) before closing at 1.0414.
USD/CAD now trades between last week's limit at 1.05 and 1.04, the veteran line that now switches its role once again to a support line. Looking down, 1.0280 remains a minor line of support after working in both directions in recent months.
Lower, 1.02, the 2009 low, provides further support. It's followed by 1.01, which provided support both in May and recently in August. Even lower, the ultimate line of support is the parity line.
Looking up, 1.0680 was a stubborn line of resistance in June and in July and will cap a rise by USD/CAD if it breaks above 1.05.
Above, 1.0750 was swing top several times in the past year and works as a strong resistance line. Higher, 1.0850 was a swing high in May and also in back in November.
I remain bearish on USD/CAD.
As the storm from Bernanke's move calms down, Canadian fundamentals should push the pair lower.
Further reading:
Want to see what other traders are doing in real accounts? Check out Currensee. It's free..