The Canadian dollar  posted modest losses against the US dollar this week. USD/CAD  briefly pushed across the 1.06 line before closing the week at 1.0573.  There are only four releases this week,  highlighted by Building Permits.  Here is an outlook on the major market-movers and an updated technical analysis for USD/CAD.
The Canadian dollar lost ground on Friday, as the Canadian Ivey PMI dropped sharply and Canadian employment numbers were unimpressive. As well, a strong US Non-Farm Payrolls release boosted the US dollar.
Updates:
USD/CAD daily chart with support and resistance lines on it. Click to enlarge: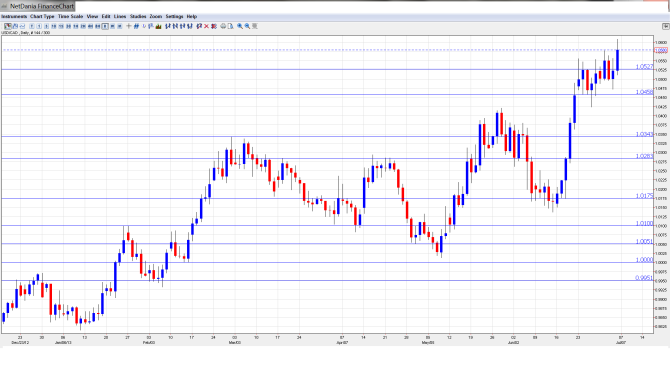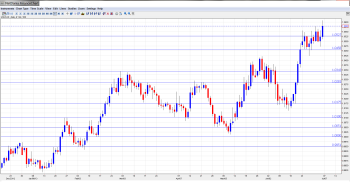 Building Permits: Monday, 12:30.  Building  Permits is  the key release this week. This indicator is an important gauge of activity in the construction sector, and can affect the movement of USD/CAD. Building Permits has looked very sharp, with the previous release posting an excellent gain of 10.5%. This crushed the estimate of -2.3%. The markets are expecting a much lower reading for the July release, with an estimate of 2.6%. Will the indicator surprise the markets with another sharp rise?
BOC Business Outlook Survey: Monday, 14:30.  This report is released quarterly by the Bank of Canada. It surveys about 100 Canadian businesses for their views of general business conditions, including spending and hiring projections. The previous report painted a pessimistic report of business sentiment, and the Canadian dollar lost ground as a result.
Housing   Starts:  Tuesday, 12:15.  Housing Starts helps analysts gauge the health of the housing sector, which is a critical component of economic growth. The indicator looked good last month, posting 200 thousand starts, the best numbers we've seen since November 2012. The estimate for the July release is 191 thousand. Will the indicator again surprise the markets and beat this prediction?
NHPI:  Thursday, 12:30. This housing inflation index provides a snapshot of activity in the housing sector. The indicator has posted very modest gains in 2013, and the June release came in at 0.2%. The markets are expecting a slightly improved release this time around, with an estimate of a 0.3% gain.
* All times are GMT
Live chart of USD/CAD:  [do action="tradingviews" pair="USDCAD" interval="60″/]
USD/CAD Technical Analysis
Dollar/CAD  opened the week  at 1.0522. The pair  dropped to a low of  1.0473, breaking through support at 1.0523 (discussed last week). Dollar /CAD  bounced back sharply at the end of the week, breaking past the 1.06 as it touched a high of 1.0609. Dollar/CAD closed the week at 1.0573.

Technical lines, from top to bottom:
1.1028 is providing strong resistance. This  is followed by 1.0853, which has held steady since September 2009.
1.0705 saw a lot of action in  January 2010, but  has quietly provided solid resistance since then.
1.0652 has been providing resistance since early September 2010. The pair moved made a move towards this line late in the week, breaking above 1.06 before retracting.
1.0523 was a peak back in November 2011 and has reverted to a support level as the pair pushed higher this week. It is a weak line, and could face pressure if the Canadian dollar shows some strength.
1.0454 continues to provide support. This line has strengthened as the pair trades at higher levels.
1.0340, which  saw a lot of activity in June, is next. This is followed by 1.0285, which was breached  as a resistance line  in mid-June.
1.0175 is the next line of support. It is close to the low point of the start of a US dollar rally in mid-June which is still ongoing.
The round number of 1.01 was a trough back in July 2012, and switched to resistance afterwards. It has reverted  back to a support line, and has held firm since mid-May.
1.0050 provided support for the pair in May 2013 and on other occasions beforehand. It remains a barrier before parity. The very round number of USD/CAD parity is a clear separator, and the battle was very clear to see at the beginning of August 2012 and also in 2013.
The final support line for now is 0.9950. This line  provided some support for the pair during November and worked as resistance earlier.
I  remain  bullish  on USD/CAD
The US dollar is broadly stronger thanks to some strong employment data last week, and continues to push the loonie to lower levels. Unless this week's Canadian releases surprise the markets with some unexpectedly sharp numbers, we could see the US dollar rally continue.
 Further reading: