The Canadian dollar had a fantastic week, reaching 14 month highs against the greenback. The launch of QE3 and higher oil prices certainly helped. Inflation data is the major event this week. Here is an outlook on the major market-movers and an updated technical analysis for USD/CAD.
The US Federal Reserve announced an open ended bond buying program worth $40 billion per month. Together with other steps, the move hit the US dollar and pushed commodity prices higher. Canadian trade balance deficit grew to a record high of $2.3 billion in July, amid a 3.4% drop in exports. Exports of energy products declined 8.5 % to $8.2 billion for the month, while automobile components declined 5.3% to $5.9 billion. The major difficulty lies is exporting to the US, Canada's main trading target. Will Canadian exports continue to decline?
Updates: USD/CAD is stabilizing after the big falls. A mysterious plunge in oil prices hurt the loonie, although this may be temporary. Canadian  Foreign Securities Purchases stood on 6.67 billion dollars in July. There are no scheduled releases until Friday. The loonie is steady, as USD/CAD was trading at 0.9745. Core CPI, a key release, will be published on Friday. The markets are expecting a 0.3%, after two consecutive declines. The loonie is choppy, and is once again below 0.98. USD/CAD was trading at 0.9785.
USD/CAD  daily chart with support and resistance lines on it. Click to enlarge: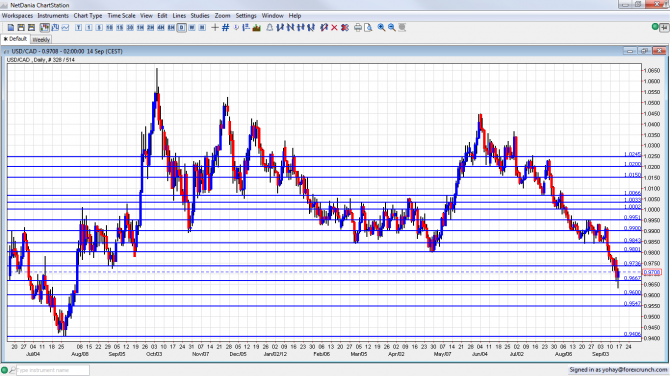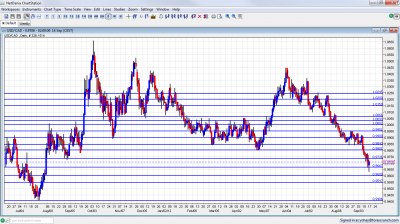 Foreign Securities Purchases: Monday, 12:30. Foreign investors sold C$7.9 billion ($8.0 billion) worth of Canadian securities in June, following record high acquisitions of C$26.11 billion in May. The decrease of purchases occurred partly due to retiring bonds of the federal government and its enterprises. Meanwhile Canadian investors bought C$3.9 billion in foreign securities in June, well above the C$1.3 billion purchased in May. Foreign investors are expected to purchase C$11.3 billion in July.
Inflation data: Friday, 12:30. Canada July Consumer Price index and Core Consumer Price index dropped 0.1% following a 0.4% decline in June. Economists expected CPI and Core CPI to increase 0.2%. On an annual rate Canadian inflation declined to 1.3% from 1.5% in June keeping below the Bank of Canada's 2% inflation target for the fifth consecutive month. CPI is predicted to gain 0.4%, while Core CPI is predicted to climb 0.3%.
Wholesale Sales: Friday, 12:30. Canadian wholesale activity slowed for the first time in five months dropping 0.1% in June from a 0.9% gain in May in light of lower sales of agricultural products. Economists expected a 0.1% increase. Canadian wholesale activity is expected to remain flat this times.
* All times are GMT.
USD/CAD  Technical  Analysis
USD/C$ continued the steady fall at the beginning of the week. The 0.9740 line (mentioned last week) served as a separator for ranges. The pair fell as low as 0.9632 before recovering and closing at 0.9708.
Technical lines, from top to bottom:
We start from a lower point this week. 1.0066 was key support before parity. It's strength during July 2012 was clearly seen and it gave a fight before surrendering. Now, it is somewhat weaker. 1.0030 is another line of defense before parity after capping the pair earlier in the year. The move below this line is not confirmed yet.
The very round number of USD/CAD parity is a clear line of course, and the battle was very clear to see at the beginning of August 2012.  Under parity, 0.9950 is now the top border of the range, similar to a role it played in March 2012. It also worked well as resistance in August 2012, in more than one occasion.
0.99, the round number capped the pair in May 2012, was a pivotal line in the middle of the range during the summer of 2012. 0.9840 provided support for the pair during September and proved its strength in several occasions during August 2012. This very strong line now switches to resistance.
The round number of 0.98 provided support for the pair in April and is a key line. Lower, 0.9725 worked as strong support back at the fall of 2011.
0.9667, which was another strong cushion in June 2011 is the next line. The round number of 0.96 provided some support back in 2011 and is minor now.
Further below we find 0.9550, which worked as resistance when the pair traded in low ground. 0.9450 also provides some support on the way down.
The ultimate line of support is 0.9406, which was the bottom in 2011 and the lowest since the financial crisis broke out.
I remain bearish on USD/CAD.
Tensions in the Middle East push  the price of oil  higher, while the negative impact of risk aversion is cushioned with the fresh QE3 program. It seems that the downwards move can continue a bit more before we see a correction. The loonie also enjoys recent strong job figures.
Further reading: