The Swiss gained some ground against the greenback, as USD/CHF closed the week just below the 0.97 line, at 0.9691. Highlights of the upcoming week include the Foreign Currency Reserves and CPI. Here is an outlook for the Swiss events, and an updated technical analysis for USD/CHF.
The swissie weakened during the week, but then rebounded, following strong US employment data late in the week.
Updates: Two key releases, Foreign Currency Reserves and CPI, will be released on Tuesday. USD/CHF is steady as we begin the trading week. The pair was trading at 0.9718. The Unemployment Rate was unchanged, coming in at 2.9%. Foreign Currency Reserves rose sharply, posting a reading of CHF 406.5. CPI fell to its lowest level in one year, with a 0.5% decline. The swissie dropped below the 0.97 line, as USD/CHF was trading at 0.9681. SECO Consumer Climate was a big disappointment, plunging to -17 points. The markets had expected a modest drop of only 4 points. The swissie shrugged off the weak reading, as it pushed above the 0.97 line. USD/CHF was trading at 0.9718.
USD/CHF daily graph with support and resistance lines on it. Click to enlarge: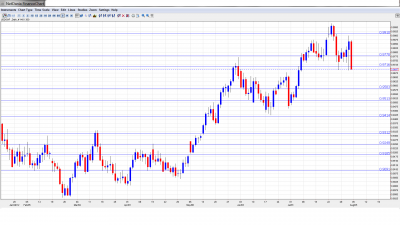 Unemployment Rate: Tuesday, 5:45. The Unemployment Rate looked very sharp last month, falling to 3.9%. No change is expected in the August reading.

Foreign Currency Reserves: Tuesday, 7:00. The indicator has been on an upswing in recent readings, and climbed to CHF 364 billion in July.

CPI: Tuesday, 7:15. This key inflation index fell 0.3% in the previous reading, and the markets are expecting a sharper decline of 0.5% in August. These deflationary figures indicate a slowdown in economic activity.

SECO Consumer Climate: Wednesday, 5:45. This consumer index has been moving upwards in recent months. Another gain is forecast for the August reading, of -4 points.    
*All Times are GMT
USD/CHF Technical Analysis
USD/CHF opened the week at 0.9761, and climbed to high of 0.9898, as the resistance line of 0.9915 (discussed last week) held firm. The pair then retraced,  touching a low of 0.9697 and closing the week at 0.9691.
Technical lines from top to bottom:
We begin with resistance at 1.0136, which has held firm since September 2010. Next is the resistance line at 1.0066, which was last tested in November 2010. This is followed by parity, which continues to be a strong line of resistance. Next, there is resistance at 0.9915, which held firm as the pair moved upwards. 
Below is 0.9783, which has strengthened in resistance as the pair trades at lower levels. Next is 0.9719, which just last week was in a support role. It is currently providing the pair with weak resistance, and could be tested again this week. 
The pair is receiving support at 0.9584. Next, there is support is at 0.9510, which saw some movement earlier in July. This is followed by support at 0.9412. Below, there is strong support at 0.9317, which has held firm since mid-May. This is followed by support at 0.9250. Further support can be found at 0.9182, which was last tested in early May. The final support level for now is 0.9093.
I am bullish on USD/CHF.
USD/CHF has been choppy throughout most of July, and the rally by the Swiss franc late last week may just be a blip. Given the troubles in Europe and the global slowdown, many investors will be drawn to the safety of the US dollar. A sluggish Swiss economy and lack of action by the Federal Reserve could help the US dollar strengthen.
Further reading:
Get the 5 most predictable currency pairs