USD/JPY lost about 90 points last week, as the pair closed at 120.40. The upcoming week has  just two events. Here is an outlook on the major events moving the yen and an updated technical analysis for USD/JPY.
In the US, Final GDP for the third quarter posted a gain of 2%, very close to the estimate. Housing numbers disappointed, and durable goods were weak, but within expectations. In Japan, inflation remained weak and household spending produced another decline, its fifth decline and six readings.
do action="autoupdate" tag="USDJPYUpdate"/]
USD/JPY graph with support and resistance lines on it: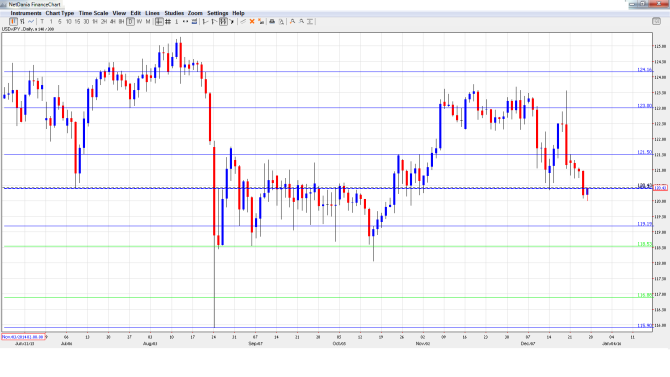 Retail Sales: Sunday, 23:50.  Retail Sales is  the primary gauge of consumer spending, and  is closely  monitored by analysts.  The indicator posted a strong gain of 1.8% in October, well above the forecast of 0.9%. The markets are braced for a downturn in the November report, with an estimate of -0.1%.
Preliminary Industrial Production: Monday, 23:50. The indicator posted a strong gain of 1.4% in October, the second highest gain in all of 2015. Still, this reading fell short of the estimate of 1.9%. The estimate for November stands at -0.4%.
* All times are GMT
Live chart of USD/JPY: [do action="tradingviews" pair="USDJPY" interval="60″/]
USD/JPY Technical Analysis
USD/JPY opened the week at 121.29 and quickly climbed to a high of 121.50. The pair then reversed directions and dropped to the round number of 120.00. The pair closed the week at 120.40 (discussed last week).
Technical lines from top to bottom:
124.16 was an important cap in late June.
The round number of 123 has strengthened in resistance as the pair trades at higher levels.
The pair touched resistance at 121.50 before retracting. It is currently an immediate resistance line.
USD/JPY ended the weak at 120.40, which was a swing low in July,
119.19 has held firm since October.
118.50 is an immediate support level.
116.90 supported dollar/yen early in the year.
115.90 is the final support level for now.
I am  neutral on USD/JPY
The yen has showed some improvement in the month of December, as USD/JPY  close to the symbolic 120 level. The upcoming week will be likely marked by thin trade and as a result  we  could see some  choppiness from the pair.
Our latest podcast is titled The Fed Awakens, and what's next?
Follow us on Sticher or on iTunes
Further reading: