EUR/USD  saw more storms in the first week of September moving on top tier events from both sides of the Atlantic. A mix of German and French data awaits us now.  Here is an outlook for  the highlights of this week and an updated technical analysis for EUR/USD.
Draghi dragged the euro down by lowering forecasts, loosening bond buying rules and getting ready to do more. He elegantly joined the currency wars without committing to a big move.  The euro continued trading as a safe haven, rising with stock market falls and falling when things became calmer. PMIs were not so  convincing but unemployment fell. Will this continue weighing on the euro? A lot depends on the US, which is awaiting the Fed after the NFP, which was quite mixed. Let's start:
[do action="autoupdate" tag="EURUSDUpdate"/]
EUR/USD daily graph  with support and resistance lines on it. Click to enlarge: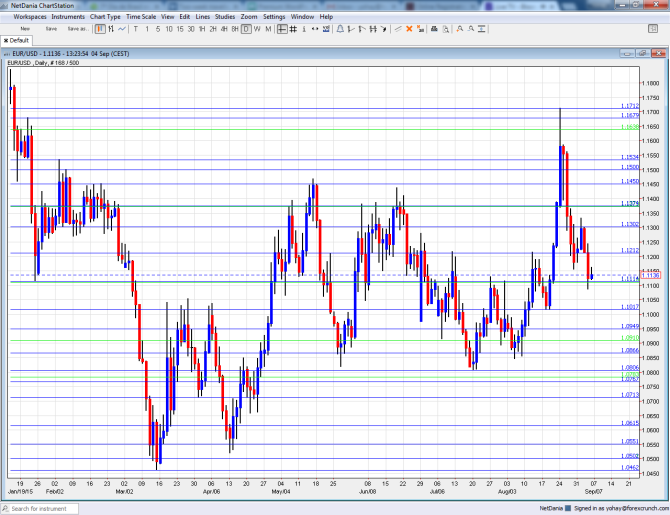 German Industrial Production: Monday, 6:00. The euro-zone's powerhouse has seen a slide of 1.4% in its industrial output in June. The figure for July will likely see a bounce back up with +1.2%.
Sentix Investor Confidence: Monday, 8:30. The  2800 strong survey showed another stall in optimism, with a score of 18.4 points in August,  below expectations. Another side is on the cards now, to 16.2 points.
German Trade Balance: Tuesday, 6:00. Germany enjoys a very wide trade surplus and this keeps the euro bid at times. After  +22 billion in June, a similar number is on the cards for July: 21.8 billion.
French Trade Balance: Tuesday, 6:45. Contrary to Germany, France has a  trade deficit, but at least it is squeezing. The recent number was 2.7 billion in June. A 3.2 billion deficit is on the cards now. Note that the French government will release its budget at the same time, and a deficit is likely  here as well.
French Industrial Production: Thursday, 6:45. The changes in French industrial output are less pronounced than in Germany. A drop  of 0.1% was seen in June and a rise of 0.3% is on the cards now.
Finance minister meetings: Friday with all EU 28 ministers and Saturday for the euro-zone ministers, the Eurogroup.  The finance ministers of the euro-zone  countries meet to discuss current affairs. They were in the spotlight around the heights of the recent Greek crisis in June and July and are now somewhat away from the spotlight. However,  the Greek elections are quite close and the sensitive debt question is always on the table.
German Final CPI: Friday, 6:00. The initial number coming out of Germany showed no change in prices m/m and this will likely be confirmed now. At the same time the German Wholesale Price Index is released and it is expected to show a rise of 0.2% after 0.1% beforehand.
* All times are GMT
EUR/USD Technical Analysis
Euro/dollar  kicked off the week by extending its gains and  reaching a  very high peak of 1.1712. It then turned all the way down and bottomed out around the 1.1215 level mentioned last week. But it didn't end there, with Draghi sending it to the 1.10 handle.
Live chart of EUR/USD: [do action="tradingviews" pair="EURUSD" interval="60″/]
Technical lines from top to bottom:
Due to extreme volatility, we start from higher ground this time: 1.1875 was the low seen in 2010 and also capped the pair earlier this year. The August high of 1.1712 is the next line.
1.1680 capped the pair in January on its way down.  The next line is a clear separator of ranges: 1.1535. It was last seen in January as well.
The very round 1.15 level is of importance thanks to its psychological role. It is closely followed by 1.1460 that served as resistance earlier in the year.
The historic line of 1.1373 (from November 2003) still  has a role as resistance. 1.13, the round number,  showed its strength in capping a recovery attempt in early September.
1.1215, which capped the pair both in June and in August is clear resistance. It is followed by a low seen in  January  of 1.1113 which is nearly 0.90 on USD/EUR.
1.1050 returns to the chart after serving as a stepping stone for the pair to rise to higher ground. 1.0950 is a pivotal line in the range.
1.0865 provided some support in late May and is weak support before a stronger line: 1.0810, which was the bottom in July also nicely coincides with the low seen in May and is strong support..
The next line is  1.0760, which was the low point in both July and August 2003. 1.0715 joins the chart after temporarily capping the pair in April 2015.
I am bearish  on EUR/USD
As we wrote last week,  the ECB also joined the currency wars. With immediate steps and more QE looming, the euro could face significant  downwards pressure from the central bank, even if the Fed refrains from an immediate rate hike.  In our opinion, there is a good chance of a "dovish rate hike".
In our latest podcast we explain what's going on with EUR and China before previewing the big events ahead:
If you are interested in a different way of trading currencies, check out the  weekly binary options setups, including EUR/USD and more.
Further reading: