Euro/dollar  traded in a narrow range in the last week of 2011 but eventually extended its losses for the year. The first week of 2012 is packed with economic indicators as market participants return from their holidays. Here is an outlook for the 11 events awaiting us, and an updated technical analysis for EUR/USD.
Italy had another bad bond auction. It's not that yields jumped, but if they remain at current levels, the euro-zone's third largest country will find itself in a debt trap that can bring the whole system down.  The pair ended the year over 400 pips lower. Will 2012 see more falls?
Updates: Talk about new steps from Merkozy help the euro recover in the wake of the new year. 1.30 is conquered once again. Spain might need international help and Italy is afraid of this. Together with a mixed German auction, the euro returned to normal and dropped sharply to support at 1.2945. Rumors about trouble in Deutsche Bank, weak German retail sales and fresh fear sent EUR/USD to 16 month low, despite an OK French bond auction.
EUR/USD daily chart with support and resistance lines on it. Click to enlarge: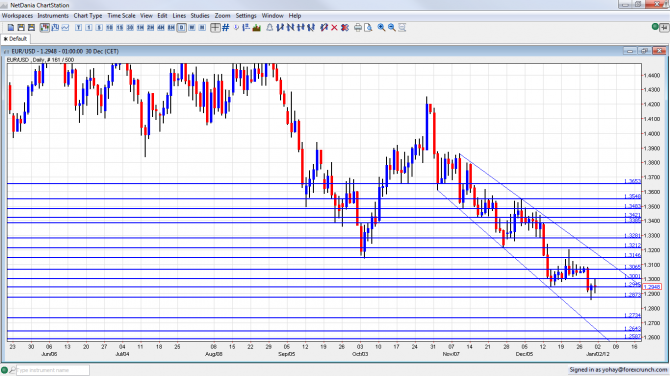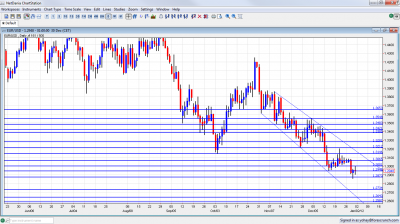 Final Manufacturing PMI: Monday, 9:00. According to the initial publication, the manufacturing sector is contracting at a slower speed than earlier, with the PMI at 46.9 points. This will likely be confirmed now, and it reflects a 5th consecutive month of contraction.
German Unemployment Change: Tuesday, 8:55. After one month of a rise in unemployment, the number dropped again, showing the strength of the German economy. A smaller drop than last month's 20K is expected now – only 9K.
French Consumer Spending: Wednesday, 7:45. The euro-zone's second largest economy has experienced no growth in consumer spending last month, after very small changes beforehand. A rise is expected now, of 0.5%.
Final Services PMI: Wednesday, 9:00. The services sector is contracting at a slower speed than the manufacturing one. The initial score for December stood on 48.3 points. The number is predicted to be confirmed, showing a 4th straight month of contraction in this sector.
CPI Flash Estimate: Wednesday, 10:00. In the past three months, the level of inflation stood on 3%. This didn't stop the central bank from cutting interest rates. Inflation is expected to drop already now, but remain above the 2% target. 2.8% is the consensus.
German Retail Sales: Publication time unknown at the moment. Europe's No. 1 economy has seen a small drop in the volume of sales last month. A return to growth is likely now, but this rise will likely by small, +0.3%.
Industrial New Orders: Thursday, 10:00. The total of new orders in the manufacturing sector dropped sharply last time: 6.2%. This was very disappointing. A rise of 2.6% is predicted now, in this important figure.
PPI: Thursday, 10:00. Producer prices are moving slowly in recent months. Last month saw a minor rise of 0.1%, and a similar rise is likely now.
Retail Sales: Friday, 10:00. This important consumer indicator recovered from a drop two months ago and managed to rise by 0.3%. With a slowdown in many countries, a drop of 0.2% is predicted now.
Unemployment Rate: Friday, 10:00. After many months of no changes, the last three months saw a gradual rise in the unemployment rate, and this is quite worrying. No change is expected from last month's 10.3% rate. Note that there are big gaps between the various countries: Germany's rate is around 7% while Spain's is significantly above 20%.
German Factory Orders: Friday, 11:00. This is a very volatile indicator. After a plunge of 4.6% two months ago, a leap of 5.2% was recorded last month. A rise of 1.5% is expected now. Despite the high volatility, the indicator has a strong impact on the common currency.
* All times are GMT
EUR/USD Technical Analysis
Euro/dollar traded in a very narrow range at the beginning of the week, around the 1.3060 line (discussed last week). It then took a dive and even dipped below the previous YTD low and reached 1.2858. It ends the year on a low note.
Technical lines from top to bottom:
We start from a lower point. 1.3550 provided support early in September and then switched to resistance after the fall. It proved it can work as good resistance as well, as seen after the Non-Farm Payrolls. 1.3480 managed to stop an attempt to rise in December. It also had a bi-directional role in September.
The 1.3420 line is weaker now but still significant. When this bottom border of the range was broken, it  immediately  switched to resistance. The level of 1.3380 is the next line. It is a minor pivotal line now once again.. 1.3280 was the bottom in December and is important resistance.
Another line of interest is 1.3212 which held the pair from falling and switched to resistance later on.  Very important resistance is at 1.3145 which wad the lowest point seen in the current round of the crisis and was only broken for a short time from the other side
1.3085 was the top border of a very narrow range that characterized the pair towards the end of 2011. It also provided support back in December 2010 and had a pivotal role.
The round number of 1.30 is psychologically important and also worked as some support. After the breakdown, it was shattered. The new low of 1.2945 is still important as a pivotal line after the downwards move.
1.2873 is the previous 2011 low set in January, and still provides strong support. The break was only temporary. 1.2734 worked as support in the summer of 2010 and is the next line below.
1.2640, is a weaker line of support, after working as such during the fall of 2010. The last line is 1.2587, the trough of August 2010.
Even lower, 1.2520 is another minor support line, and the last line for now is 1.24.
Downtrend channel
A sharp and widening downtrend channel can be seen on the graph, and  is stronger now after downtrend support provided support during the downfall. Downtrend resistance begins at the end of October and has been widened to  accommodate  to the changes. Downtrend support was formed later on but is more distinct – it wasn't violated.
I am bearish on EUR/USD
As the new year begins and all market participants get back to their desks, the recession in Europe, high funding costs of Italy and no solution to the debt crisis all point to lower ground. In the US, things are looking a bit better.
If you have interest in a different way of trading currencies, check out the  weekly binary options setups, including EUR/USD, GBP/JPY and more.
Further reading: