Euro/dollar  had a very positive week, riding on new hope for the old continent. Is this a desired correction, or a change in trend?The euro-zone will now receive fresh growth indicators, an important survey and other events. Here is an outlook for the upcoming events, and an updated technical analysis for EUR/USD.
After talks about the Greek haircut broke down last week, they resumed and apparently yielded a deal. Also Spain's auctions distanced it from the danger zone and helped the euro. Yet in Greece's case, it's important to remember that a 50% haircut isn't a 50% reduction of debt, and that only the fragile banks will suffer and not the ECB. Not yet.
Updates: Euro/dollar continues higher despite big troubles in securing a deal for Greece. The euro can certainly cheer by the positive PMIs released in Europe, showing that a recession isn't a done deal. 1.3060 is very strong resistance at the moment. Good news from Germany was quickly washed away as Greece is getting closer to a default. The pair lost the 1.30-1.3060 range and is trading one leg lower. EUR/USD rallies strongly after a deal on Greek PSI seems closer once again, German figures continue to shine and especially as Ben Bernanke surprised by  extending the pledge for low rates until late 2014. EUR/USD is struggling around the 1.3145 line. See how to trade the US GDP with EUR/USD.
EUR/USD daily chart with support and resistance lines on it. Click to enlarge: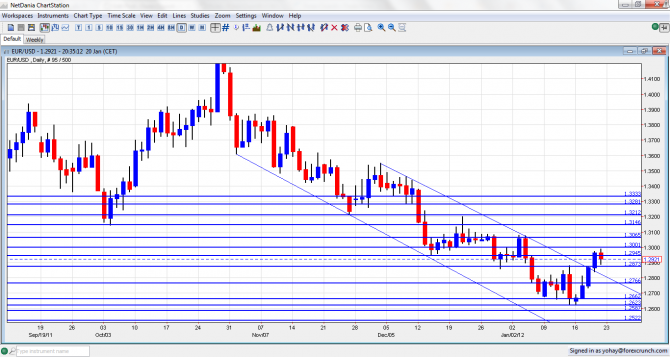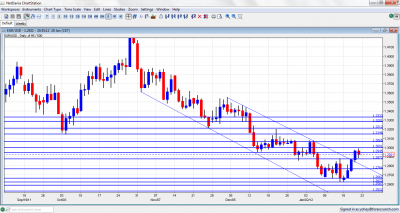 Consumer Confidence: Monday, 15:00. This official Eurostat survey has been negative, reflecting pessimism for a very long time. It is is expected to tick down from last month's -21 points.

Flash PMI: Tuesday. Begins in France at 8:00, continues in Germany at 8:30 and ends with the all-European numbers at 9:00. Purchasing managers' indices are good indicators of growth, and are separated into manufacturing and services sectors. German and French service sector figures, all the rest are below 50 points, pointing to contraction. The figures are expected to remain similar to last month, reflecting a struggling services sector and a clearly contracting manufacturing one. Note the manufacturing PMI for the whole continent, which is at 46.9 points. All the indicators are expected to show marginal improvement.
Industrial New Orders: Tuesday, 10:00. New orders with manufacturers disappointed in the past two months, and fell short of expectations. After the smaller-than-expected rise of 1.8% last month, a drop of 2.1% is predicted now.
NBB Business Climate: Tuesday, 15:00. Although coming from a small country, this wide survey of 6000 participants is a good indicator. After several months of drops, the figure edged up last month to -10.6 points. The negative number represents deteriorating conditions. Another small improvement is expected, but the figure will likely remain negative.
German Ifo Business Climate: Wednesday, 9:00. This survey comes from Germany's No. 1 think tank. Signs of stabilization have been seen here, with the score rising for two months in a row. Another tick up is expected from 107.2 to 107.7 points.
Mario Draghi talks: Wednesday, 13:15. The president of the ECB has had a positive impact on markets recently. This was seen in his calming message in the recent rate decision press conference, and with his statement of seeing "signs of stabilization" in the system. In a speech at Davos, it will be interesting to see what Draghi says.
German  GfK Consumer Climate: Thursday, 7:00. This survey of 2000 consumers was very stable lately. Germans are not severely impacted by the debt crisis. Not yet at leasr. The score of 5.6 points seen in the past two months, will likely remain unchanged.
German Import Prices: Friday, 7:00. Europe's No. 1 economy has seen fluctuations in currency prices of late with a see-saw like behavior. After last month's rise of 0.4%, another rise of 0.3% is predicted now.
M3 Money Supply: Friday, 9:00. Growth in the amount of money in circulation moves prices and economies. After disappointing with a drop to 2%, a rise back to 2.3% is expected for December.
* All times are GMT
EUR/USD Technical Analysis
Euro/dollar began the week with a gap lower, testing the lows of 1.2620, discussed last week. The rest of the week was totally different: the pair move higher, and the break above 1.2873 left it clearly behind, even if 1.30 wasn't reached.
Technical lines from top to bottom:
We begin from higher ground this time. 1.3330 provided some support for the pair during December 2011 and is minor now. 1.3280 had a similar role at the same time, and is stronger.
1.3212 held the pair from falling and switched to resistance later on.  Very important resistance is at 1.3145 which was the lowest point recorded in October 2011, was only broken for a short time from the other side.
1.3085 was the top border of a very narrow range that characterized the pair towards the end of 2011. It also provided support back in December 2010 and had a pivotal role. The round number of 1.30 is psychologically important and also worked as some support. After the breakdown, it was shattered and is now weak.
The 1.2945 line is weaker now after being broken in January, but still provides resistance. 1.2873 is the previous 2011 low set in January, and it returns to support once again. This is a very strong line separating ranges.
1.2760 is a pivotal line in the middle of a recent range. It provided support early in the year. 1.2660 was a double bottom during January and the move below this line is not confirmed yet.  1.2623 is the current 2012 low, but only has a minor role now.
A more important line is 1.2587, the trough of August 2010. This line will be closely watched on any move downwards. A break below this line will send the pair to levels last seen 18 months ago.
Even lower, 1.2520 is another minor support line, before the round number of 1.24, which was of importance a long time ago.
1.2330 is also an ancient pivotal line, that now works as support. The last important line for now is 1.2144.
Downtrend channel broken
The pair can be seen as trading in a parallel, yet wide channel. Downtrend resistance is more significant than downtrend support, even thought it dates back only to December. It was broken just now and needs to be watched. Downtrend support starts in October, but is far from the pair at the moment.
I am neutral on EUR/USD
The Greek debt deal is not that positive as it doesn't really help Greece, and hurts banks, yet it certainly helped the euro. In addition, it opens the door for a Portuguese default. The upside comes from the successful Spanish auctions, which may serve as a model for Italy. All in all, the crisis is far from resolution, and a temporary balance is likely to be a pause before a fresh downfall as the euro is punching above its weight.
If you have interest in a different way of trading currencies, check out the  weekly binary options setups, including EUR/USD, GBP/JPY and more.
Further reading: