The British pound had a bad week before Christmas. This calendar is quite light this week. Here's an outlook for the British events and an updated technical analysis for GBP/USD.
The growing worries about British austerity measures are a heavy weight on the pound, which is losing also to other currencies except the dollar. Will it stabilize now?
GBP/USD daily chart with support and resistance lines on it. Click to enlarge: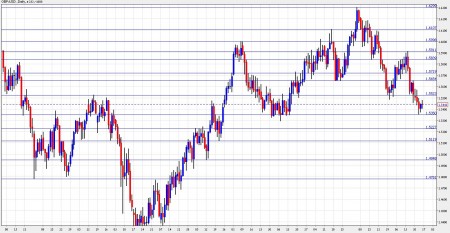 Nationwide HPI: Publication time unknown at the moment. This is considered one of the best house price indicators in the UK. After two months of drops, Nationwide is expected to show a rise in prices this time – 0.2% compared to a drop of 0.3% last time.
Housing Equity Withdrawal: Wednesday, 9:30. Although this indicator isn't that important, its quarterly publication draws attention. After showing -62. billion in Q2, -5.5 billion is expected now.
GBP/USD  Technical  Analysis
The pound had a rough week×¥ After it fell off the 1.5480 line, it bounced only at 1.5350 (mentioned last week) before recovering and finding 1.5480 as resistance.
Looking down,  1.5350 was a support line during August and September and just now. It serves now as a strong line of support.
Lower, 1.5230 capped the pair in the beginning of the summer, and is now has a different role. It's followed by 1.5120, which already worked as support, and is a minor line now.
Even lower, 1.4950 was a stepping stone for the pound on the way up. It's just under the round number of 1.50. The last line for now is 1.4770, which dates back in the spring.
Looking up, 1.5480, proved to be a strong line also in the opposite direction, and is immediate resistance. It's followed by the minor 1.5520.
Above, 1.5650, which was a strong support line in recent months, serves as minor resistance at the moment. It's followed by 1.5720, which worked in both directions.
Higher, 1.5840 and 1.5910 capped an attempt to rise recently. 1.60, is a round number that also was a stubborn peak in August.  Even higher, 1.6107, the swing high, is the next line of resistance.
I remain bearish on GBP/USD.
European debt troubles, the Chinese rate hike, just join the club of British troubles, led by a slowing economy and austerity measures.
Further reading: