EUR/USD  extended its slide for another week as the dollar surged but gradually recovered. The ECB rate decision is the key event alongside PMIs  Here is an outlook for  the highlights of this week and an updated technical analysis for EUR/USD.
Yet again, optimism and despair around Greece had their impact on the common currency. The  upcoming deadline of June 5th might be more serious than the previous ones. The euro did manage to gain back some ground on the back of more upbeat euro-zone data, mostly from Germany and Spain. In the US, good data helped the local currency. The greenback seemed to enjoy every small economic beat while mostly ignoring misses on economic indicators.
[do action="autoupdate" tag="EURUSDUpdate"/]
EUR/USD daily chart  with support and resistance lines on it. Click to enlarge: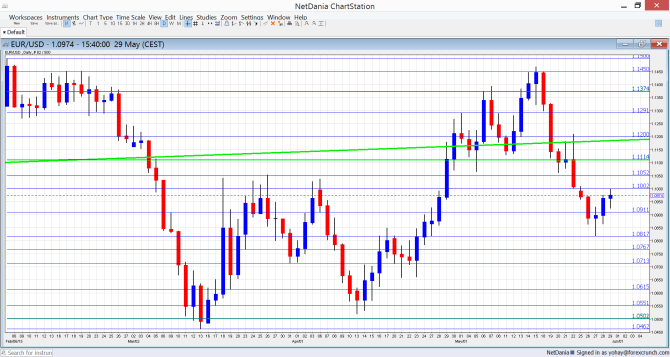 German CPI: Monday, states report during the morning,  all-German read at 12:00. In April, prices dropped by 0.1% in Germany as oil prices stabilized. No change is expected in the preliminary read for May. This feeds into the read for the whole euro-zone.
Manufacturing PMIs: Monday morning: Spain at 7:15, Italy at 7:45,  France at 7:50, Germany at 7:55 and the whole euro-zone at 8:00.  According to Markit, Spain enjoyed a good growth rate in the manufacturing sector during April, with 54.2 points, significantly above the 50 point mark that separates growth from contraction. A score of 54.4 points is expected for May.  Italy saw a similar score of 53.8 points and now carries expectations for 53.1 points. According to the preliminary number for May,  the French PMI ticked up to 49.3 points, just below the barrier. Germany was on the other side with 51.4 points in the early read for May and  the whole euro-zone saw a score of 52.3 points. The early numbers will likely be confirmed.
Spanish Employment Change: Tuesday, 7:00. While these numbers change according to the seasons due to Spain's large tourism industry, the unemployment data from the  zone's fourth largest economy certainly matter. In April, 118.9K jobless got off the lists and a good outcome is also on the cards for May.
German Unemployment Change: Tuesday, 7:55. Germany has enjoyed a steady decline in the number of the unemployed. After a slide of 8K in  March, a similar number is on the cards for April: -10K.
Flash CPI: Tuesday, 9:00.  Even if the ECB were to change policy on rising inflation, the latter is not rising. Headline CPI was at a flat 0% y/y in April. While this could be blamed on oil prices, also core CPI is far from being satisfactory at 0.6% y/y. Small rises  are no the cards now: +0.1% in headline CPI and +0.7% in core CPI.
PPI: Tuesday, 9:00. Producer prices haven't gone anywhere fast. The rises in recent months only partially compensated for big falls beforehand. A rise of 0.2% in March will likely be followed by a more moderate rise  in April: +0.1%.
Services PMIs: Wednesday morning: Spain at 7:15, Italy at 7:45,  France at 7:50, Germany at 7:55 and the whole euro-zone at 8:00. In April, Spain's number jumped to 60.3 points, reflecting very strong growth and a lot of optimism. A slide from the highs to 59.5 is predicted now.  This wasn't shared by the rest of the continent as Italy as 53.1 points and it is now expected to tick down to 52.7 points. The preliminary numbers for May showed France at 51.6 points – just a bit of growth. Germany saw 52.9 points and the whole euro-zone was at 53.3 points. These early numbers carry expectations for a confirmation now.
Retail Sales: Wednesday, 9:00. Despite the early release from Germany, the number for the full euro-zone still matters. After a drop of 0.8% in March, a bounce back is expected for April with +0.6%.
Unemployment Rate: Wednesday, 9:00. Despite a small slide from the highs, euro-area unemployment remains stubbornly high and stood on 11.3% in March. A small drop to 11.2% is  expected for April.
ECB rate decision: Thursday, 11:45, press conference at 12:30. The European Central Bank  is expected to leave  the current policy unchanged: the  main lending rate at 0.05%, the deposit rate at minus 0.20% and the bond buying program (QE) unchanged at 60 billion euros per month. The focus remains on the press conference.  The recent message from president Mario Draghi and his colleagues was clear: the program has to be fully implemented to see a continued recovery. Draghi was not deterred by a protester nor by German wishes to see the program curbed. The tone, whether optimistic  about the  recovery and bank lending or pessimistic about unemployment and inflation will set the tone. In any case, the euro-zone and the ECB need a weak euro. Note that in this edition, the Frankfurt based institution also releases updated economic forecasts.
Retail PMI: Thursday, 8:10. This measure by Markit is improving, but is still in negative territory at 49.5 points in April. A similar number is on the cards for May.
German Factory Orders: Friday, 6:00. This is quite a volatile data print, but  is always watched. After a rise of 0.9% in March, a small rise of 0.6%  is on the cards.
Revised GDP: Friday, 9:00. Euro-zone output grew by 0.4% in Q1 according to the  initial release. While this is stronger than previous quarters, it fell short of predictions. The final number is expected to be identical.
* All times are GMT
EUR/USD Technical Analysis
Euro/dollar  began the trading week with a slide below the 1.10 level (mentioned last week). It then extended its falls and got very close to the 1.0815 line (also discussed last week), but enjoyed a nice rebound.
Live chart of EUR/USD: [do action="tradingviews" pair="EURUSD" interval="60″/]
Technical lines from top to bottom:
The round level of 1.15 has a psychological impact and it also worked as support in the past. 1.1450 capped the pair during February's  recovery attempts and also during May.
Below, the historic line of 1.1373 (from November 2003) still  has a role as resistance. 1.1290, which was a peak in April and support in February is significant resistance.
The round number of 1.12 served as resistance to a recovery attempt and is now a pivotal line. It is followed by a low seen in  January  of 1.1113 which is nearly 0.90 on USD/EUR.
1.1050 was  a high point in March 2015 and now works as important support before the round level of  1.10. This is still a battle line.
The next line was minor support  back in  October 1999: 1.0910. It was resistance back then and was tested once again in March 2015.  This is followed by 1.0815 which worked in both directions.
The next line is  1.0760, which was the low point in both July and August 2003. 1.0715 joins the chart after temporarily capping the pair in April 2015.
1.0660 worked nicely as support in April 2015.  1.0615, which worked in both directions during March 2015 and is better at support.
Another minor line is 1.0550, for  a role as support in the same period of time.  The very round level of 1.05 served as support during 2003.  The lowest level in over 12 years is 1.0462 and this makes it critical support.
Below this point we have the very obvious level of  1 – EUR/USD parity, which is already eyed  by more  and more analysts.
I remain bearish on  EUR/USD
The correction is over and a new one isn't likely to begin. We will probably get another reminder to the main driver of the pair down: monetary policy divergence, with a strong message from the ECB. A deal with Greece, which could be closer than many think, would be good news, but could provide only temporary relief for the common currency. In the US, data is improving, and the dollar  takes advantage of every bit of optimism.
In our latest podcast, we explain the recent USD  rally, what's ahead and lots more
Subscribe to Market Movers on iTunes
If you are interested a different way of trading currencies, check out the  weekly binary options setups, including EUR/USD and more.
Further reading: