EUR/USD  dipped to new lows but also showed hesitation, closing another week in the red. The ECB decision in which new measures are expected, is undoubtedly the big event of the week.  Here is an outlook for  the highlights of this week and an updated technical analysis for EUR/USD.
The ECB is warming its engines for the big decision, with a report  about a two tier deposit rate as a possibility. Speculation  is mounting about the decision, and so is the question: is ECB action already priced in. Data is looking better in  Germany, with upbeat PMIs and a surprising rise in business confidence. Can this impact the ECB? In the US, OK data continued being good enough for a rate hike.
[do action="autoupdate" tag="EURUSDUpdate"/]
EUR/USD daily graph  with support and resistance lines on it. Click to enlarge: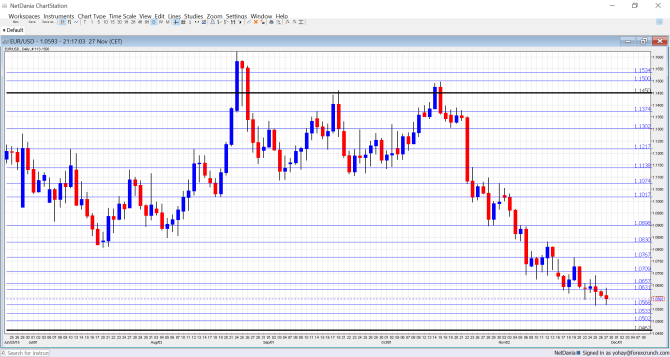 German CPI: Monday: the states report throughout the day with the all-German figure at 13:00. In October, prices remained unchanged m/m, better than expected. The preliminary German number for November released now feeds into the all-European number and is closely watched by the ECB.
Manufacturing PMIs: Tuesday: 8:15 for Spain, 8:45 for Italy, final French number at 8:50, final German figure at 8:55 and the final  all-European figure by Markit is released at 9:00. Spain, the euro-zone's fourth largest economy,  saw modest growth in the manufacturing sector in October, 51.3 points. The 50 point mark separates growth from contraction. Italy, the third largest, saw 54.1 points. According to the preliminary release for November, France had modest growth at 50.8 points and Germany  saw a more upbeat level of 52.6 points while the euro-zone enjoyed 52.8 points. The last three numbers will probably be confirmed now.
German Unemployment Change: Tuesday, 8:55. The locomotive of the euro-area saw the number of unemployed drop by 5K jobs. The good news will likely continue.
Unemployment Rate: Tuesday, 10:00. The  unemployment in the euro-zone is still high at 10.8%, but continues improving and is off the highs. Did  it continue sliding in October?
German Retail Sales: Wednesday, 7:00. The volume of retail sales remained flat in Germany during the month of September, falling short of expectations for the second consecutive time.
Spanish Unemployment Change: Wednesday, 8:00.  Despite improvements, Spain still suffers a high  unemployment rate. This seasonal figure rose by 82.3K in October and the fresh figure for November comes at a sensitive time: just several weeks before the general elections.
CPI: Wednesday, 10:00. Inflation figures surprised to the upside in October, with the final headline inflation ticking up to 0.1% and core inflation rising to 1.1% y/y. This contrasts worries from Draghi.  The preliminary numbers for November come just one day before Draghi speaks out.
Services PMIs: Thursday,  8:15 for Spain, 8:45 for Italy, final French number at 8:50, final German figure at 8:55 and the final  all-European figure by Markit is released at 9:00.
Retail Sales: Thursday, 10:00. While the figure is released after the German and French ones, it is still watched. After a slip of 0.1% in September, a rise of 0.2% is on the cards for October.
ECB decision:  Thursday, 12:45, press conference at 13:30. European Central Bank president Mario Draghi has hinted at the possibility of further QE in December. The central banker explained that the ECB would continue to purchase £60bn ($92bn) a month in assets as part of its QE program, but that amount might increase. Draghi said that the asset-purchase plans  are proceeding smoothly and continue to have a favorable impact in the market. Draghi also stated that the new macro-economic projections will be read by the ECB meeting in December and would enable the committee to undertake a review of its policy stance. There is speculation about a two-tier cut in the deposit rate, but the details are unclear. According to a recent poll, expectations stand at a 10bp cut in the deposit rate to -0.30% and an increase of €15 billion in QE, from  ָָ€60 to €75 billion per month. There is potential for a surprise in the interest rate, the path of least resistance. Here is the full ECB preview:  Short euro and long bunds opportunities.
German Factory Orders: Friday, 7:00. Germany's factory orders disappointed in September with a drop of 1.7%. A rebound of 1.3% is predicted in this volatile figure.
Retail PMI: Friday, 9:10. This measure of activity in the retail sector has been steady at 51.3 points in October, reflecting slow growth. A similar number could be seen now.
* All times are GMT
EUR/USD Technical Analysis
Euro/dollar started the week with a gap lower but certainly remained within lines seen last week. It found support at 1.0630 and only temporarily dipped below the level. 1.0760 served nicely as resistance, but then the pair fell all the way to 1.0566 before stabilizing only a bit higher.
Live chart of EUR/USD: [do action="tradingviews" pair="EURUSD" interval="60″/]
Technical lines from top to bottom:
1.1070 is a double top in October and is the next line.  1.10 is a pivotal line in the range but not so much as support or resistance.
1.09, which was a support line in October, is the next support line. 1.0830 was a post slide high seen in November and also a range separator..
The next line is  1.0790, a minor line in the range. 1.0710 is the  next support line on the  chart after temporarily capping the pair in April 2015.
1.0630 worked as nice support in November 2015 and then switched to resistance. The next level for the same month is 1.0566. It is the last line  before plunging to 1.0530, that supported the pair in April.
Below, the 12 year low of 1.0460 seen in March. 1.03 could provide  further support before parity.
I am  bearish on  EUR/USD
Draghi has a tendency to under-promise and over-deliver. Despite all the preparations and expectations, he is set to find a way to hit the euro hard. This doesn't imply parity, but certainly a drop. In the US, even a mediocre NFP will keep the Fed on course for a historic hike.
In this week's podcast we guide you through the upcoming storm:  ECB, NFP, OPEC and more
Follow us on Sticher or on iTunes
Further reading: