The Canadian dollar suffered significant losses against the greenback in the past week. Housing starts and Trade balance are the highlight of this week. Here's an outlook for the Canadian events, and an updated technical analysis for USD/CAD.
Update, Monday, 23:00 GMT: The Canadian dollar is retreating, also suffering from the plunge in oil. USD/CAD Parity is in sight.
Update Tuesday, 17:36 GMT: USD/CAD bounced off parity as positive housing starts in Canada helped the loonie stabilize after touching the magic number.
Update, Wednesday, 19:30 GMT: USD/CAD managed to recover from the drop that it had when Bernanke announced a two year rate stall. Oil prices are stabilizing lower, and this doesn't help the loonie.
Update, August 11th, 13:30 GMT: USD/CAD is capped by the 0.9973 line. Better than expected US jobless claims help the loonie.
Last week the Canadian job market gave mixed signals amid an unexpected small gain of only 7,100 jobs in July while cutting unemployment rate to 7.2% from 7.4% in June The weak rise is believed to derive from the slowdown in the US. This slowdown, together with the credit downgrade are likely to weigh on America's northern neighbor.
USD/CAD daily chart with support and resistance lines on it. Click to enlarge: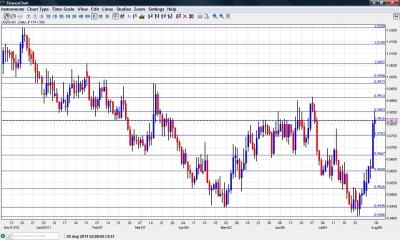 Housing Starts: Tuesday, 12:15. Construction activity increased by 1.7% in June reaching 197,000 June after194,100 in the previous month. The increase was led by a jump in single-unit construction. Analysts predicted 182,000 units. This positive reading should contribute to the Q2 GDP. A small drop to 193,000 is expected now. Actual: housing starts jumped above 200K and stopped the rise to parity.
Trade Balance: Thursday, 12:30. Canada's trade deficit narrowed from a revised to C$814 million in May from a deficit of C$900 million in the previous month. Exports rose by 1.2% while imports increased by 1.1%. An increase of deficit to C$900 million is forecasted.
NHPI: Thursday, 12:30. The New Housing Price Index (NHPI) increase by 0.4% in May from 0.3% gain in April. NHPI increased by 1.9% on a yearly base following the same rise in April. A rise of 0.5% is predicted.
*All times are GMT.
USD/CAD Technical Analysis
Dollar/CAD was on the upwards move throughout the week. When the 0.9667 line (mentioned last week) was crossed, the move accelerated, with the pair eventually bouncing off only at 0.9853.
Technical lines, from top to bottom:
1.02 was the historic low of 2009, and is a significant line of resistance, currently far off. It is followed by 1.0140, which capped the pair towards the end of 2010.
The last line above parity is 1.0060. This was the highest level in 2011 and is getting closer. The very round number of USD/CAD parity is the obvious line below, although it isn't too strong.
Under parity, we have two close lines – 0.9977, which was a trough in 2010, was also tested at the beginning of March and proved to be significant. Below, 0.9915 was a peak back in June and will provide some resistance on an upwards move in that direction.
0.9850 was a swing high in May, and capped the pair just now. 0.9816 capped the pair over and over again and it will be a pivotal line at the beginning of the week. It is somewhat weaker.
0.9750 was a very distinctive line earlier, separating ranges in a great way. It provided a bouncing spot for further moves higher. 0.9667 was a cushion in March and later worked as resistance. This line provided support a few weeks ago, and had an important role in holding back recovery attempts, over and over again. The break above it pushed the pair quickly.
0.96 was a minor support line that played a role earlier in the year. It is weaker now. 0.9520 becomes a minor line after being shattered. It worked as support and also as minor resistance during April. It managed to cap the recovery attempt for some time.
0.9450 was a double bottom just now and is very important – it's the new 2011 low. USD/CAD went as low as 0.9406 before the surge began.
Below this line, we have lines last seen in 2007 – 0.9250 is notable, as well as the historic low of 0.9056.
I am bullish on USD/CAD
The crash in oil prices, that was triggered by Trichet, together with the historic credit downgrade of the US by S&P, will weigh heavily on the Canadian dollar. Canada is very dependent on the US. In addition, the domestic figure of Ivey PMI plunged, erasing the half full glass of the Canadian job figures.
Further reading:
Get the 5 most predictable currency pairs